2016 Mercedes-Benz Metris Cargo Van 126

#Ford #MercedesBenz #Chevrolet
Think of a company that has a wide range of vehicles, ranging from a small EV to a large van, from a sports car to a family car. Cars that are not all that expensive. Cars that have a sticker where there are as many digits as are found on the typical odometer (six places).
And you might think of Chevy. From the Spark to the Express. From a Sonic to a Corvette (I readily got a Z06 above $100,000, in case you're wondering).
And you wouldn't be incorrect thinking of Chevrolet as the vehicle brand offering all things to (almost) all people.
But there is another company that has this sort of range, but one that has even more breadth.
It's Mercedes-Benz.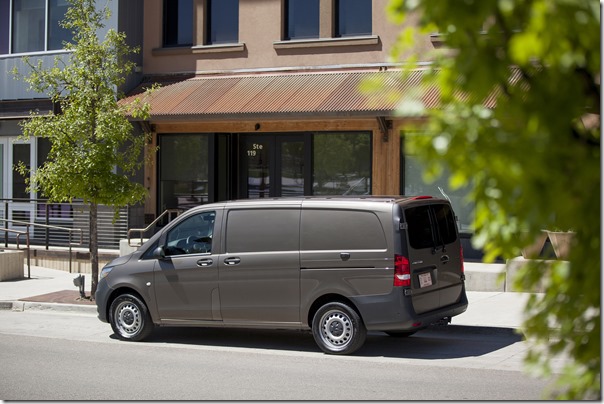 You can go from the B-Class all the way up through the S-Class and then keep going to the Sprinter. (Arguably, you could start at the smart fortwo, which is smaller than the B-Class and go from there.)
While Mercedes in the U.S. is perceived as a luxury brand across the board, in Germany, it is a brand that has on offer a whole suite of vehicles. Alfred Sloan's "fit for every purse and purpose" could be stated auf Deutsch.
The most remarkable Mercedes I've encountered is the Mercedes Metris cargo van. You might think that the Sprinter 2500 that I've recently been in might have taken the proverbial cake. But it is large and imposing and impressive in some regards.
The Metris cargo van from the outside rather innocuous—until you see the Mercedes tri-star on the grille and then do a bit of a double-take.
This thing is a work truck. Two seats in the front. And 186 cubic-feet of cargo space in the back, with a payload of up to 2,502 pounds. (The maximum cargo height is 53.8 inches; there are 50 inches between the wheelhouses; there is a maximum cargo width of 66.3 inches.)
About that cargo area in the back. One of the interior trim characteristics for luxury vehicles continues to be wood. And the floor of the Metris cargo van is wood.
From the outside, this looks like the classic minivan in overall shape. As this is a cargo vehicle, there are windows for the driver and passenger on the side and that's it. There are windows in the rear doors, however. And the side sliding doors are a nice feature.
The outside looks somewhat poky. This isn't functional Bauhaus territory. It's more like a clip-art design of a van. Merc logo on the face of the wheel covers notwithstanding, they still look like pie tins.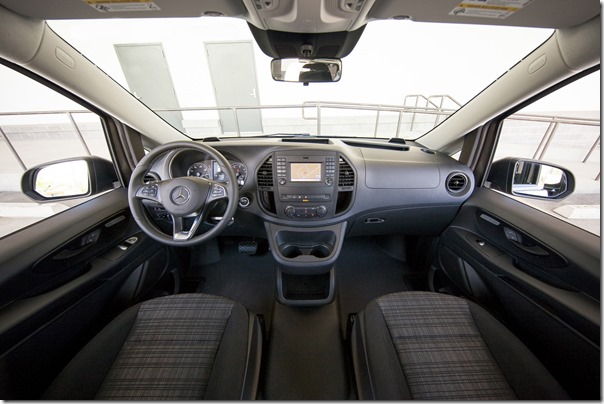 But in the cabin there is an instrument panel that is straight out of a Mercedes sedan. And thanks to various option packages selected for this particular vehicle—which takes the base MSRP from $28,950 to $38,290 (including $995 for destination and delivery), the Metris is tricked out with everything from leather trim to an LED light strip in the rear compartment, from navigation to a start/stop package.
The vehicle is powered by a 208-hp four cylinder gasoline engine mated to a seven-speed automatic transmission.
Here's the problem with the Metris Cargo Van in the U.S. market. If you're in the trades, chances are you don't want your customer to think that you're overcharging. If you show up in a Ford Transit of some size, the customer isn't going to think twice. Pull up in the Mercedes, then you may have some explaining to do about that invoice.
Selected specs
Engine: Direct-injected, turbocharged four
Horsepower: 208
Torque: 258 lb-ft
Transmission: Seven-speed automatic
Wheelbase: 126 inches
Length: 202.4 inches
Width: 75.9 inches
Height: 75.2 inches
Seating: Two
Cargo volume: 186 cu. ft.
EPA fuel economy: 21 mpg city; 24 mpg highway; 22 mpg combined
Related Topics
RELATED CONTENT
Ram Truck chief exterior designer Joe Dehner talks about how they've developed the all-new pickup. "We've been building trucks for over 100 years," he says. "Best I could come up with is that this is our 15th-generation truck."  

Airbags are seemingly everywhere on the interior of vehicles. But what about on the outside? One day we could see them there, too.

The thing about the Wrangler Willys Wheeler: It is a toy for a grown-up boy.