2016 Nissan TITAN XD 4 x 4
Whenever I'd walk toward the Titan XD in a parking lot, the phrase from the 2010 Warner Brothers' movie "Clash of the Titans" came to mind: "Release the Kraken!" To be sure, much of that came directly from the name of the half-ton pickup truck.
#Toyota #HP #Nissan
Whenever I'd walk toward the Titan XD in a parking lot, the phrase from the 2010 Warner Brothers' movie "Clash of the Titans" came to mind: "Release the Kraken!"
To be sure, much of that came directly from the name of the half-ton pickup truck. Diane Allen, senior manager, Nissan Design America, who headed up the team to design the truck, told me that they were literally inspired by the Greek myths when penning the truck. Notably, if you look carefully at some of the details both inside and out you'll find certain cues that resonate with helmets and shields and other elements that signify strength, which is what a pickup ought to evoke.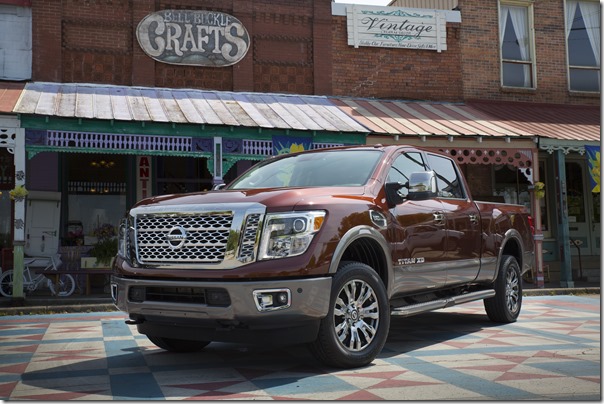 But really, more of it came directly from the sheer size of the Titan, its overall presence.
This truck is simply daunting. It is 242.7 inches long. It is 80.7 inches wide. It is 78.8 inches high. It sits on 20-inch wheels. And with the Platinum Reserve trim level, where nothing is reserved, everything is there (Platinum Reserve badged leather-appointed seats, exterior badging and front and rear metallic kickplate finishers—you won't forget the name of the truck you've invested in; leather-wrapped heated steering wheel; driver and passenger heated and cooled front seats and heated rear seats; chrome exhaust tailpipe finishers; dark chrome tailgate finisher, outside door handles and outside mirrors; and enough wood on the inside (of the open-pore variety, not that lacquered stuff that seems to have been produced in a vat, not a forest) to panel a basement. Just to hit on some of the Platinum Reserve highlights.).
For those who don't have the step rails (of course the ones on the Platinum Reserve are almost sculptural in execution) and doesn't opt for the RearView Monitor with Trailer Guides are going to (1) probably pull a muscle trying to climb in the cab and (2) probably hit something with that integrated gooseneck hitch.
This truck is fitted with a 5.6-liter V8, the Endurance. Built in Dechard, Tennessee (consider: the design is done in California, the engine hails from the Volunteer State, and the truck is assembled in Canton, Mississippi), the engine provides 390 hp and 401 lb-ft of torque. The engine features direct gasoline injection which helps improve both acceleration and fuel economy. (The Platinum Reserve 4 x 4 has a curb weight of 6,770 pounds, so the "fuel economy" comment is relative.) The engine is mated to a seven-speed transmission. The 4 x 4 has a new transfer case for appropriate power distribution; there is a knob that allows selection on whether you're running as RWD or all the way around. (And while on the subject of moving: there are four-wheel discs all around for braking.)
(The Titan XD is also available with a 5.0-liter Cummins V8 turbodiesel that cranks out 310 hp but a highly capable 555 lb-ft of torque.)
If we wind back to the Kraken you might think that this is a rough and rugged truck. It may be rugged, but it is far from being rough. It has the level of interior refinement that is become characteristic of pickup trucks at the high end of their trim packages.
But one thing occurs to me. Let's face it: Nissan has had a slow go of it as regards it pickup sales. Last year it managed to sell 12,140 Titans in the U.S. market last year. People are generally dismissive of the number of Tundras that Toyota sells, but know that it moved 118,880 of those pickups in 2015, nearly 10 times as many Titans. (And for those who want to have their minds boggled, know that in December 2015 Ford delivered 85,211 F-Series trucks—just the month of December.)
Anyway, I've got to believe that the people at Nissan HQ in Nashville are thinking that they've got to seriously up the volume of Titan sales. And consequently I've got to believe that the ~$55,000 that the Platinum Reserve Titan XD has on the window sticker represents one hell of a bargain for those who are looking for a top-of-the-line-pickup that Liam Neeson (a.k.a., Zeus) would find felicitous to roll in.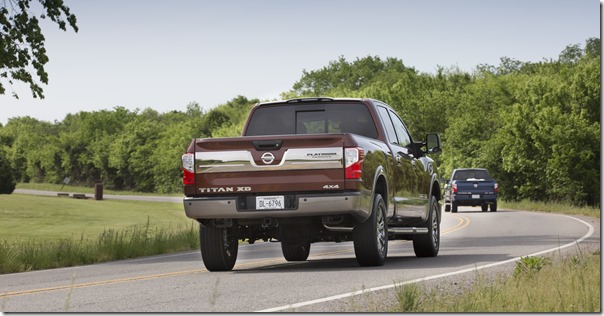 Selected specs
Engine: 5.6-liter, DOHC, naturally aspirated V8
Material: Aluminum block and heads
Horsepower: 390 @ 5,800 rpm
Torque: 401 lb-ft @ 4,000 rpm
Transmission: Seven-speed automatic
Steering: Hydraulic, recirculating ball
Wheelbase: 151.6 in.
Length: 242.7 in.
Width 80.7 in.
Height: 78.8 in.
Maximum payload: 2,310 lb.
Maximum towing capacity, trailer (gooseneck hitch): 10,850 lb.
Curb weight: 6,770 lb.