2016 Toyota RAV4 SE AWD
Light vehicle sales in Russia have been rather weak for the past several months, given all manner of issues ranging from a weak currency to the significant drop in oil prices.
#MINI #Hyundai #Ford
Light vehicle sales in Russia have been rather weak for the past several months, given all manner of issues ranging from a weak currency to the significant drop in oil prices. It is hard to buy cars and crossovers when money is hard to come by. (Although some might argue that given the types of loans that are on offer in the U.S., even that limitation can be overcome.)
According to the Association of European Businesses, in September light vehicle sales were down 10.9% in Russia compared to September 2015. The number of vehicles sold was 125,568.
To put that number in some perspective, according to Autodata, there were 575,114 passenger cars sold in the U.S. in September and 860,575 light trucks. Or a total of 1,435,689 vehicles in September.
However, to be fair, realize that the population of Russia is 143.5-million and it is 318.9-million in the U.S.
Still, the gulf in sales, population considered, is deep and wide.
One of the consequences of the weak vehicle sales in Russia is that many global automakers have reduced their production there.
Building RAV4s in Saint Petersburg, Russia
But this past August, Toyota started production of the RAV4 in its Saint Petersburg plant, where the Camry has been in production since 2007.
The RAV4 built in the plant will be sold in the Russian, Kazakh and Belarus markets.
To accommodate the RAV4 production in the plant, the production capacity was doubled from 50,000 to 100,000 units per year and the production capacity increase and new model launch represent an investment of 9.7-billion RUR. When full production for the RAV4 is underway, approximately 800 employees will have been added to the Saint Petersburg workforce.
According to the Association of European Businesses, in September the RAV4 was the 10th best-selling vehicle in Russia (the Camry is 9th); for the year, RAV4 is the 7th best-selling vehicle in Russia (the Camry, again, is 9th).
All of which may make you wonder: Isn't this supposed to be a review of the RAV4?
Yes.
And it goes straight to the point of the RAV4, which is such a good vehicle that the people at Toyota are confident that its fundamental characteristics can transcend a seriously struggling market.
Here in the U.S. in September its sales—29,438—were nipping at the heels of the perennially best-selling Camry, which was at 30,707.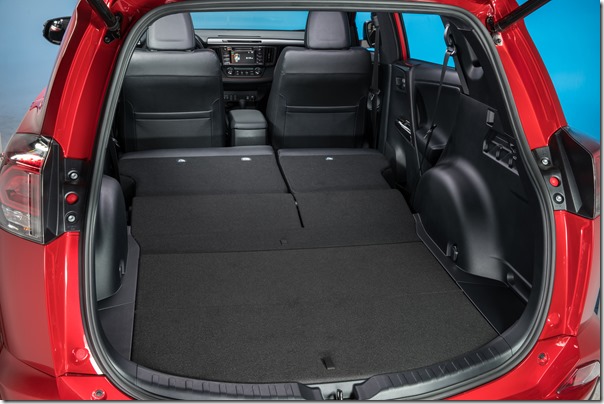 The styling, the powertrain, the amenities, and the overall orchestration makes this a compact crossover to be considered by anyone who is considering a vehicle of this type—and nowadays, that seems to be everyone.
Another data point:
According to Cars.com: "Out of 84 model-year 2016 and 2017 vehicles tested in our Car Seat Checks, only six have made the Cars.com's Car Seat Check Honor Roll. These six cars earned the top score of A in all of our Car Seat Check categories, setting them apart as the best for car-seat installation."
The cars that made the grader are the 2017 Ford Escape, 2017 GMC Acadia, 2016 Sonata Hybrid, 2016 Jaguar XF, 2016 Mini Clubman. . .and the 2016 Toyota RAV4.
While there is certainly a considerable number of people who buy crossovers just because they like the higher H-point or because of the AWD availability, some are interested in the vehicles because they generally have more cargo capability than, say, sedans. And they have kids that need to be transported, as well.
A friend who was interested in the RAV4 has three small children (including twins), so he climbed in the back and his verdict—not having done any experimentation, but just from sitting and looking—was "I could put three seats back here."
So there you have it.
Russians. Children.
This is a crossover that checks those boxes and plenty more.
Engine: 2.5-liter four; 176 hp Transmission: Six-speed automatic Passenger volume (w/moonroof): 100.7-cu.ft. Cargo volume: 38.4-cu. ft. behind second row; 73.4-cu. ft. second row folded Fuel economy: 22/29/25 city/highway/combined mpg
Related Topics
RELATED CONTENT
Generally, when OEMs produce aluminum engine blocks (aluminum rather than cast iron because cast iron weighs like cast iron), they insert sleeves into the piston bores—cast iron sleeves.

Here's an overview of the study of assembly plant productivity that gets the undivided attention of all automakers: "The Harbour Report." Although the Big Three companies are getting better, they still have a way to go. But given the levels of competition, better won't be good enough for some plants, it seems.

Many countries who once were major players from a vehicle production/export perspective are finding it difficult to even find their niche today.