Although, as Dave Zuchowski, president and CEO of Hyundai Motor America, explains, crossovers are becoming increasingly popular in the U.S. market, the compact segment is something that cannot be overlooked nor underestimated. For example, in 2015 Toyota delivered 363,332 Corollas, which make it the #5 selling vehicle in the U.S. for the year (or the #2 best-selling car behind the Camry, as the top 3 spots are pickups). The Honda Civic, at 335,384 units, was #8 for 2015.
And while the Hyundai Elantra had sales of 241,706, that is the best-selling Hyundai model, car or crossover, and it bested the likes of the Chevy Cruze (226,602) and the Ford Focus (202,478).
That was the fifth-generation Elantra. Now Hyundai is launching gen six.
And Zuchowski talks to John McElroy and me about the 2017 Elantra on this edition of "Autoline After Hours" from a patio in Imperial Beach, California, where the vehicle is being introduced to the press.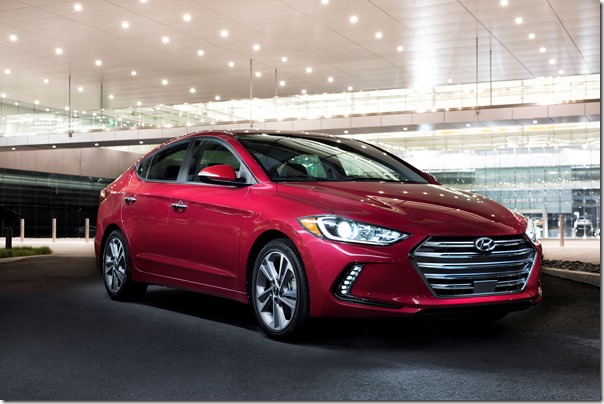 In addition to the Elantra, Zuchowski addresses a wide range of topics, including why he thinks more people are turning to crossovers in lieu of cars (people are looking for a multi-purpose vehicle) and how there is a strong potential for hydrogen-fueled vehicles (Hyundai is leasing hydrogen Tucsons in California). And he talks about Hyundai and the NFL (Hyundai is the official automotive sponsor of the league that apparently has a big game coming up fairly soon), the launch of the new Genesis channel, the outlook for sales, and a whole lot more.
Providing deeper insights into the new Elantra, we're also joined by Scott Margason, Director, Product Planning, Hyundai Motor America, and Michael Evanoff, Manager, Product Planning, Hyundai Motor America.
While capacity constraints (they're building Elantras in Montgomery, Alabama, and Ulsan, South Korea) mean that they're not going to be in Corolla territory with the Elantra anytime soon, the design, engineering and production of the vehicle are such that it will undoubtedly be giving Toyota (and Honda) a run for the money.
See it here:
Related Topics
RELATED CONTENT
Ram Truck chief exterior designer Joe Dehner talks about how they've developed the all-new pickup. "We've been building trucks for over 100 years," he says. "Best I could come up with is that this is our 15th-generation truck."  

Chrysler pioneered the modern-day minivan more than 30 years ago and has been refining and improving that type of vehicle ever since.

Here's a look at how Johnson Controls creates leading interiors as well as cool ideas for clever products.