2017 Hyundai Ioniq Hybrid Blue
A young(ish) guy that I've known for a number of years, a man who spent the better part of his career writing for auto buff books and who is a car racer on the side, mentioned to me that his wife has a used Lexus ES Hybrid.
#Lexus #Hyundai #Genesis
A young(ish) guy that I've known for a number of years, a man who spent the better part of his career writing for auto buff books and who is a car racer on the side, mentioned to me that his wife has a used Lexus ES Hybrid. Which floored me. The ES hybrid is all but invisible. (Did you even know that there was such a powertrain option for the ES? Did you know that there is a Lincoln MKZ Hybrid? For some reason, OEMs seem to almost hide the availability of these cars. And there are the Ford Fusion Hybrid, the Chevy Malibus Hybrid. . . .) What really knocked me back on my proverbial heels was when he discussed how he and his wife like trying to get high mpg while driving the ES.
To hear anyone say something about wanting to achieve fuel efficiency nowadays is a remarkable thing. To hear someone with his pedigree say it is absolutely extraordinary. Sometimes you want to go fast. Sometimes you want to not burn more gas than is necessary, and it can become something of an enjoyable challenge.
But this is not about the Lexus ES Hybrid. No, it is about the Hyundai Ioniq Hybrid Blue. And for anyone who is interested in high mpgs, the Ioniq Hybrid Blue is something that really needs to be considered.
Mind you, this is not an ES Hybrid competitor. That car is only in this for the setup.
The Lexus is, well, a Lexus, and the Hyundai is a Hyundai. (Not all that long ago there might have been something of an argument about how a Hyundai could compete with a Lexus or a BMW or a Mercedes or whatever, but since Genesis has been separated from the mainstream brand, Hyundai is, yes, the mainstream brand. So were I not telling a true story in that first paragraph, I might have taken literary license and had something along the lines of "mentioned to me that his wife has a Prius-v," as that might be a more apt comparison.)
Anyway. . . .
The Ioniq Hybrid Blue (know that there are also the Ioniq plug-in hybrid and full electric vehicle) is a compact sedan that has a104-hp 1.6-liter direct-injected Atkinson-cycle four-cylinder engine that is mated to a motor that provides 32 kW of power. Altogether, there is 139 hp, which, you might think, isn't a whole lot, but with a curb weight on the order of 3,000 pounds (it is about 25 percent lighter than a comparative car of its size because they really went at lightweighting with massive zeal), it gets the car moving. And spirited moving, despite this being a vehicle that is oriented toward mpgs, is also helped along by the use of a six-speed dual-clutch transmission (yes, there are steering wheel mounted paddles should you feel so inclined) rather than a CVT as found in many other hybrids (e.g., ES, Prius v).
It has been my experience with many hybrids that the best performance tends to come when driving on surface streets and in traffic rather than on a freeway. This is because the electric motor is given more chance to work and to get recharging from regenerative braking.
Here is where I was more surprised than finding out about what my friend's wife drives: I drove the Ioniq on the freeway and yet I was still coming in at 50+ mpg. What's more, the electric motor will operate at up to 75 mph. Obviously, that draws down on the battery, but it can be done.
The car that I drove happened to be white, which is, from a styling point of view, not a good color for the Ioniq because that color essentially causes the sheet metal forms (body panels are both steel and aluminum) to be washed out and so the car ends up with its visual character sucked away. The interior is made of plastics and fabrics that have things like volcanic stone and sugar cane as ingredients, but it would be impossible to tell.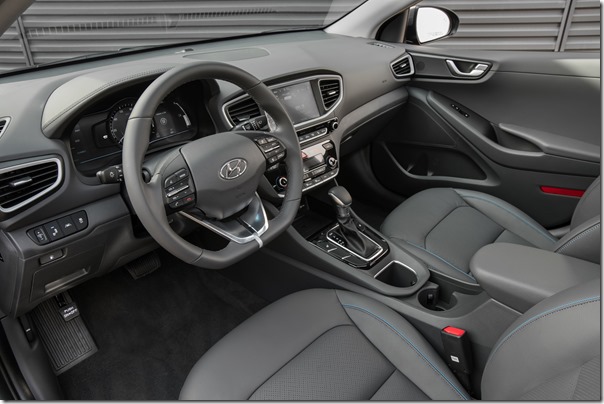 The thing about the Hyundai Ioniq Blue is the fuel efficiency, plain and simple. It is a compact car that gets really, really good fuel efficiency with no compromise in terms of performance (within its context, mind you) or package space.
RELATED CONTENT
Designing lighter, stronger and more cost-effective automotive products provides a solid competitive edge to the companies that produce them. Here's why some are switching their materials from steel to magnesium. (Sponsored Content)

Can you glue a car together? Frank Billotto of DuPont Transportation & Industrial discusses the major role structural adhesives can play in vehicle assembly.

While Ford has reset the stakes in the light-duty pickup market with the aluminum-intensive F-150, that's not the whole story of what they've done to this new generation of America's best-selling vehicle.