2017 Lexus GS 350 F Sport
For model year 2016 Lexus took its GS sport sedan and made it sportier by launching the GS F model, with "F" signifying a performance variant of the normal vehicle. It almost goes without saying that for development the vehicle went to the Nurburgring to be put through its paces.
Model year 2017 continued with the GS F, and that car has a 467-hp, 5.0-liter V8 engine.
Which, let's admit it, is a bit much for many people.
So Lexus decided that it needed something that was performance-oriented though not as performance-extreme as the GS F. It developed the "F Sport" package for the GS, which includes a performance chassis setup as well as interior and exterior touches that set the car apart from regular GS models.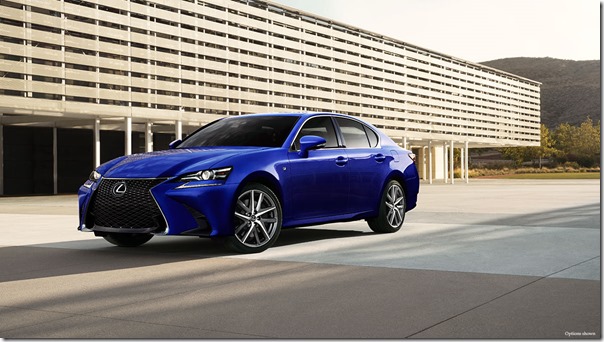 Touches like ventilated front seats and five-spoke dark graphite 19-inch alloys, Naguri aluminum interior trim (this has an absolutely fascinating appearance, a series of connected diamond shapes) and a more aggressive front fascia.
There are adaptive variable suspension and variable gear-ratio steering (which monitors speed, steering direction and driver input to help direct the vehicle in the most appropriate track).
And there is a more modest but still nicely capable 3.6-liter V6 that produces 311 hp and 280 lb-ft of torque. It is mated to an eight-speed automatic with paddle-shift capability. There are drive modes that can be selected; it does seem somewhat odd that there is an "Eco" mode, but sometimes you just want to save on that 91-octane fuel. (And speaking of fuel, the EPA fuel economy is 19 mpg city, 27 highway, for a combined 22 mpg. I rolled from Detroit to Traverse City and back, including town driving Up North, and had 27 mpg without availing myself of the ECO mode (other than to see how it worked: which I primarily noticed in a reduction in the air conditioner output and a bit of sluggishness from the throttle; though I must note that I also put it in the Sport mode, which made things a bit, shall we say, comparatively lively.)
Then there are the things that one has come to expect from a Lexus, whether it is the Bi-LED dynamic auto-leveling headlamps or dual zone automatic climate control. There is the 12.3-inch navigator screen that can not only help you get to where you're going, but also has room to indicate what song it is that you're listening to. (Speaking of listening to, one of the most starting discoveries in the car is a CD player. Yes, it can also handle DVDs. But CDs?! It must be a demographic thing.)
One thing that has nothing to do with "F Sport" or performance but has lots to do with whether one is going to buy a sedan is the roominess and capacity of the car. It has room for five—which nowadays translates to "room for four unless the person who gets the middle in the back is a toddler"—and it has an 18.4-cubic-foot trunk, which is certainly a good size for carrying what one would take on a trip with several other people.
The GS 350 F Sport I drove had a "premium paint" surface, a color that is named "Ultrasonic Blue Mica." Arguably it might be better named as "Ultraviolet Blue Mica," as sound has less to do with it than light.
But I've got to wonder whether someone who is going to buy the car really wants to be as flash as that paint makes the car. Especially if said person has a predilection to use that knob, and not in ECO.
Related Topics
RELATED CONTENT
Sandy Munro and his team of engineers and costing analysts at Munro & Associates were contacted by UBS Research—an arm of the giant banking and investment firm—and asked whether it was possible to do a teardown and cost assessment of the Chevrolet Bolt EV.

Dan Nicholson is vice president of General Motors Global Propulsion Systems, the organization that had been "GM Powertrain" for 24 years.

Kia Motors America COO and executive vice president says this crossover is "crafted for the urban pioneer." And it is designed and engineered for competing in one of the hottest segments in the overall auto market.