2017 Mazda6 I Grand Touring
Admittedly, people are now buying more vehicles in the crossover category than in the car class.
#Mazda #oem #Autodata
Admittedly, people are now buying more vehicles in the crossover category than in the car class. But let's not get carried away here: people are still buying cars. Lots of them. According to Autodata, in 2017 there were 6,332,925 cars sold in the U.S. Sure, there were 10,897,511 trucks, but not everyone is keenly interested in something that they can haul mulch, gravel and whatnot in the rear bed.
What is more mysterious than the proliferation of pickups (OK, lots of those numbers for "trucks" are things like crossovers) is this number: 33,402.
That's the number of Mazda6 sedans that were sold in 2017.
That's decidedly not a big number. That's not the volume that that vehicle ought to have.
Consider: in 2017 Toyota sold 387,081 Camrys. Honda 322,655 Accords.
And Mazda 33,402 Mazda6s?
I mean, just look at it:
This is clearly one of the most handsome, attractive, striking (or use your own fulsome adjective) sedans going. That sheet metal is formed in a way that could be considered a "class-above," meaning that there would probably be at least a $10K addition to the bottom line on the window sticker to get it from some other company than Mazda.
Of course, while the exterior is what catches the eye, the interior is what people who buy cars have to live with. So there are leather-trimmed sport seats, with the driver's 8-way power adjustable and the passenger's 6-way. And they are both heated. The trim is well thought out. There's what appears to be stitching. There's what appears to be metal. Again, this is execution that is class-up.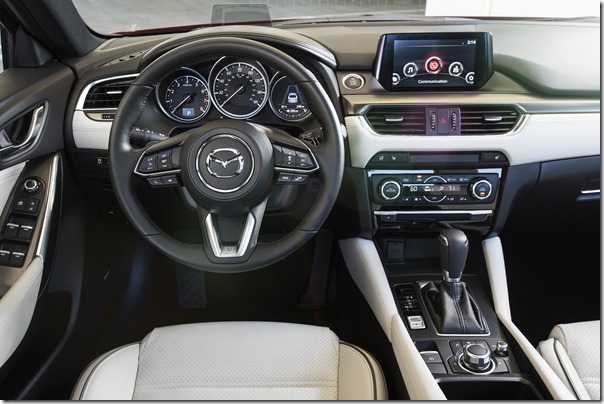 If there is something on the inside that I find to be less-than appealing on the inside is the 7-inch color display that is slabbed onto the center of the instrument panel. This is something that interior designers from many companies ought to pay more attention to (yes, I'm sure they're paying attention, but I think that it needs to be increased). People are used to looking at the screens of their iOS or Android devices. Automakers what to have their own interfaces. By and large this doesn't work out so well. And in this case it doesn't.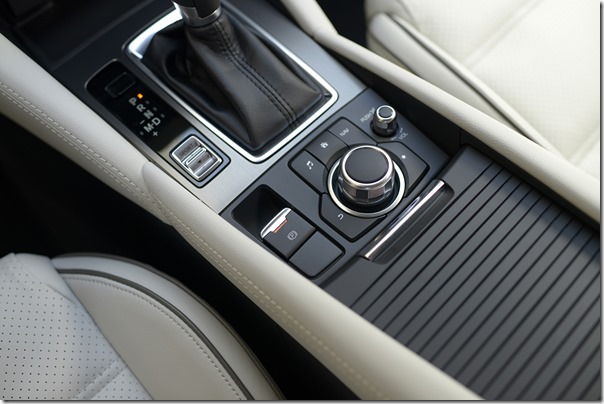 Although it is a four-door sedan with reasonable dimensions (191.5 inches long, 72.4 inches wide, 57.1 inches high), the 2.5-liter four under the hood—which produces 184 hp—is more than up to moving the 3,305-pound vehicle in a rather spritely manner. You may have heard of the Mazda "SKYACTIV" approach to life, the universe and everything within its vehicle engineering. The platform and that engine are instrumental parts of all that. (The Cliff's Notes: It is all about optimizing all aspects of the vehicle both individually and holistically such that the sum is greater than the number of parts.)
So we come back to the issue of people opting for crossovers at the expense of cars like the Mazda6.
Well, it is worth noting that Mazda has its offerings in that category, with the CX-3, CX-5 and CX-9. And if the Mazda6 had sales of just 33,402 in 2017, it is worth noting that the CX-5 had sales of 127,563 units.
Related Topics
RELATED CONTENT
If heritage means anything in this industry, then it is surprising that Buick doesn't make more of its history because the story of the early years of the company is nothing short of astonishing.

Often when there are vehicles that have ceased production and are in the process of being completely moved out of the system there are sales numbers that look like this: Honda Insight: June 2016, 9; June 2015, 126; % change: 93.1% Sometimes there is a vehicle that has just gone into production and it catches the sales at just the right time so that there are numbers that look like this: Honda Ridgeline: June 2016, 2,472; June 2015, 7; % change: 33,856% OK.

It's the fifth generation of a vehicle that has been increasing in sales year after year since its introduction in 1997.