2018 Lexus LC 500
For most reviews of vehicles, there is an opening remark of some sort, positioning the car in a larger context, like, "Oftentimes vehicle manufacturers show cars that are meant to be indicative of the thinking that's going on inside their organizations, cars that are often highly imaginative, as though the stylists were told to knock it out of the park and so they do their very best.
#Carbon #engineer #Lexus
For most reviews of vehicles, there is an opening remark of some sort, positioning the car in a larger context, like, "Oftentimes vehicle manufacturers show cars that are meant to be indicative of the thinking that's going on inside their organizations, cars that are often highly imaginative, as though the stylists were told to knock it out of the park and so they do their very best. There are oohs and ahs. And then the companies typically continue to turn the crank on the big machine that produces minor variations of what has come before. The oohs and ahs give way to shrugs at best, rolled eyes at the least. But something different is going on at Lexus, because in 2012 at the North American International Auto Show they showed the LF-LC concept 2+2 coupe, and in 2017 have introduced the 2018 LC 500 that looks better than the concept—and you can buy it."
Then the review goes on to talk about the powertrain. As in, "The LC 500 is powered by a 5.0-liter, 471-hp V8 that's mated to a 10-speed automatic that allows manual shift via magnesium paddles located on either side of the small-diameter, three-spoke steering wheel (which, incidentally, has a varying cross section, the better to hang on to). There is a Drive Mode Select feature that allows the driver to adjust vehicular settings, including a setting named "SPORT S+" that will force you back into the seats with eye-opening alacrity one the aluminum accelerator pedal is brought into use. (To give you a sense of how this rear-drive car was conceived and executed: there are two grab handles for the front passenger to seize.)"
The chassis comes into play, "According to chief engineer Koji Sato, 'We spent more than triple the usual amount of R&D time to pursue linear steering and to find the sweet spot for road contact feel.' Which just goes to show you how serious they are about the handling for the LC 500 because often engineers boast about how quickly they've gotten their developments completed."
Then the interior: "This is less a car interior than something that might be on display at the Salone del Mobile in Milan. Leather, metal, carbon fiber, Alcantara. All executed and orchestrated with the highest levels of craftsmanship, comfort and purpose."
And, of course, something about the infotainment tech: "There is a 10.3-inch TFT display in the center console for audio control, navigation and phone integration. There is another TFT display—this an 8-inch LCD unit—that is in the instrument cluster."
The one thing that I've left out is, of course, the styling of the LC 500.
And it is quite simply one of the most striking designs I've ever seen. Period. In fact, I'm not going to gush about it.
Just look at it, and that's really all you need to know.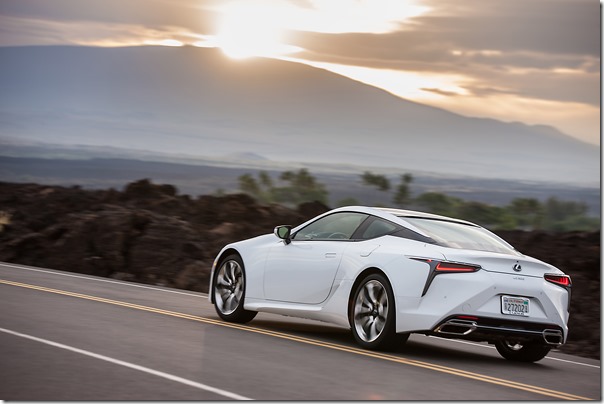 Related Topics
RELATED CONTENT
Honda is an engine company.

The 2016 model is all-new. As in platform and everything else. And the platform—which will have global use—was developed in North America.

Mercedes has been putting diesels in vehicles since 1926. It has been offering them in the U.S. since 1949. And 2013 is seeing a range of offerings, including in its popular GLK SUV.