2018 Outlander Sport 2.4 SEL AWC
Because I live in southeastern Michigan, I have the opportunity to watch the CBC (the Canadian Broadcasting Corp.), which is good for a number of reasons, ranging from exceedingly extensive Olympics coverage (NBC is but a shadow of this) to programs like Schitt's Creek to the ability to see what Don Cherry is wearing during Hockey Night in Canada.
#Ford #HP #Autodata
Because I live in southeastern Michigan, I have the opportunity to watch the CBC (the Canadian Broadcasting Corp.), which is good for a number of reasons, ranging from exceedingly extensive Olympics coverage (NBC is but a shadow of this) to programs like Schitt's Creek to the ability to see what Don Cherry is wearing during Hockey Night in Canada.
But the CBC programming seems to be that which occurs in the fleeting moments between Trivago commercials. Evidently Canadians like to travel. A lot. (Or maybe they just want to get away from those endlessly annoying commercials.)
However, there is another company that advertises on occasion on the CBC, a company that I've never seen advertise in the U.S. (which is not to say that it hasn't, just that if it has, it has escaped my attention), is a company that sells vehicles in Canada and the U.S. and a whole lot of other places, but at least so far as the U.S. goes, not very many.
In the U.S. in 2017, according to Autodata, this company sold a total of 103,686 vehicles.
To put that number into context without using extreme examples, know that in 2017 Mazda delivered 127,563 CX-5s, and Volkswagen sold 115,808 Jettas. And the 103,686 is an entire—albeit small—lineup.
2015 Evo
Which is to say that there are probably not a whole lot of people who watch the CBC and know of the continued existence of Mitsubishi Motors, the company that was once probably most widely known for the Evo, the car that had crazy popularity among the street racing community. The Evo (or more properly, the "Lancer Evolution") had as its final edition in the U.S. market, the 10th generation, a 2015 model that is literally named the "Final Edition."
Mitsubishi doesn't have a whole lot of models on offer in the U.S. right now. There are essentially three. There is the Eclipse Cross. There are the Mirage and the Mirage G4. And there are five flavors of the Outlander small SUV: the Outlander, Outlander Limited Edition, Outlander Sport, Outlander Sport Limited Edition, and the Outlander PHEV.
And I had the opportunity to drive the Outlander Sport, the SEL that has a 168-hp 2.4-liter four-cylinder engine and a continuously variable transmission (CVT). The vehicle has what Mitsubishi calls "All-Wheel Control," which is sort of confusing because there is a button directly above the center-mounted shifter that reads "4WD," which you press to put the car in AWC. Or maybe 4WD. According to the Mitsubishi shopping site: "Mitsubishi's revolutionary electronically controlled All-Wheel Control (AWC) system continually monitors the road and intelligently transfers power and braking to the wheels with the most traction to improve handing and performance—without drastically reducing efficiency. So whether you're driving on snow or gravel, or simply demand topline performance in tight corners, you can rely on All-Wheel-Control to help keep you on track." Which sounds like you wouldn't need that button, although it does offer a locking function, which could be handy were you to be stuck in a sand dune or something you're not likely to be in with an Outlander Sport.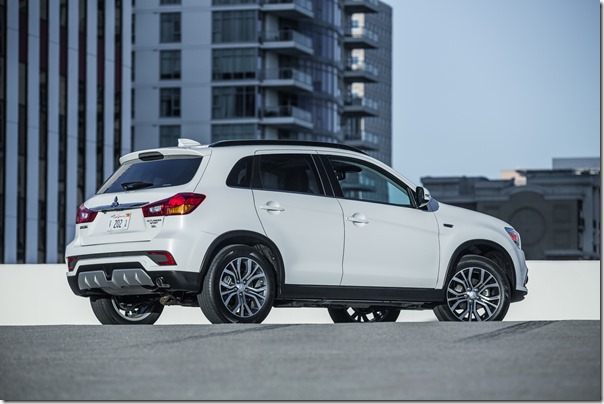 There are a multitude of vehicles in this category out there given its massive popularity. From an exterior styling point of view, the Outlander Sport has more than average presence. The interior, however, is what an older gent of my acquaintance would describe as "fair to middlin'." Somehow the piano black trim around the 7-inch touch screen doesn't overcome the grained black plastic that seems to be endless on the inside of the vehicle. The vehicle has an MSRP of $25,895—and this one has the $2,000 optional Touring Package (forward collision mitigation, lane departure warning, automatic high beams, 710-w Rockford Fosgate audio system, panoramic glass roof (which is strangely illuminated on the edges)--so with a $940-destination, $200 for the paint (which really is a nice white pearl, so well worth it), a tonneau cover for $150, and $125 for carpeted mats, we're bumping above $29K.
And although this is purely subjective, this doesn't feel like a $29K small SUV in any aspect, whether it is acceleration, amenities or otherwise.
Arguably, Mitsubishi needs to greatly over index with its vehicles. It needs to give people a reason to seek its vehicles out. They're going to trip over Ford Escapes and Honda CR-Vs and Chevy Equinoxes. They're going to be faced with all manner of enticing offers for well-equipped and executed vehicles. Which means that the Outlander Sport, in order to gain traction (if I were to provide the 2017 sales numbers for those three mentioned models it would be startling), has to be special in the category. And it really isn't.
Related Topics
RELATED CONTENT
Chrysler pioneered the modern-day minivan more than 30 years ago and has been refining and improving that type of vehicle ever since.

Generally, when OEMs produce aluminum engine blocks (aluminum rather than cast iron because cast iron weighs like cast iron), they insert sleeves into the piston bores—cast iron sleeves.

The Mazda CX-5 first appeared on the scene in 2012, and for 2017, the vehicle has undergone some major transformations, to enhance what was already a notable small crossover.