2019 Lexus ES 350 Introduced
The Lexus ES sedan is more than just an offering within the company's lineup. Remember that Lexus had its start back in 1989 in the U.S., and at launch it offered two vehicles to the public: the LS 400 and the ES 250. So the ES is a model that the brand was built on.
It is worth noting that its first month on sale in the U.S., September 1989, the ES 250 had sales of 1,215 units. Realize that this was a new car from a new company, yet it attracted a not-insignificant number of customers.
As time went on, the ES continued to build momentum (for a period it was the best-selling luxury sedan in America). In 1991 there was the second-generation, 1992 ES 300. The third generation was launched in1996 as a '97 model year car. In 2001 the fourth-generation was introduced as a 2002 model. In '04 the ES 300 became the ES 330, with the 3.0-liter engine being replaced by a 3.3-liter. The fifth generation appeared in 2006 as an '07 model, but this time it was the ES 350, as it was equipped with a 272-hp 3.5-liter V6. Then the sixth generation was launched in 2012 as a 2013 model.
And now we are at the start of the seventh generation ES, the ES 350 (and the ES 300h, a hybrid).
This is a 2019 model.
And while the ES will continue to be manufactured at a plant in Kyushu, Japan, where its roots run deep, the new model is also being produced at TMMK—as in Toyota Motor Manufacturing Kentucky. That's right: the 2019 ES 350 is become, says Susan Elkington, president of what is Toyota's largest vehicle manufacturing plant in the world (that's right: the biggest Toyota plant is in Kentucky, not Honshu: TMMK has an annual capacity of 550,000 vehicles and 600,000 engines), "is the first U.S. manufacturing plant to produce a Lexus."
They began building the ES at TMMK in 2015. Which means that it was the sixth-generation model, well into its lifecycle.
With the 2019 model, the plant is starting production at the start of the new generation and almost coincident with the production in Japan.
It is worth noting that Toyota builds cars and trucks in Texas, Mississippi, and Indiana (where Elkington got her start 20 years ago as an assembly engineering specialist), as well as Kentucky.
So what can we tell you about the car?
Project Chief Designer, Yasuo Kajino: "The ES has always been an elegant luxury sedan. For this generation, we have added daring design elements that challenge the traditional expectations of buyers."
The car is more sleek, notably with a lower stance and a faster roofline. Of course it is worth noting that as this is a sedan and not a coupe (or even a full-on sports sedan, for that matter), they had to take into account backseat passengers, so they lowered the H-point and even paid attention to the headliner.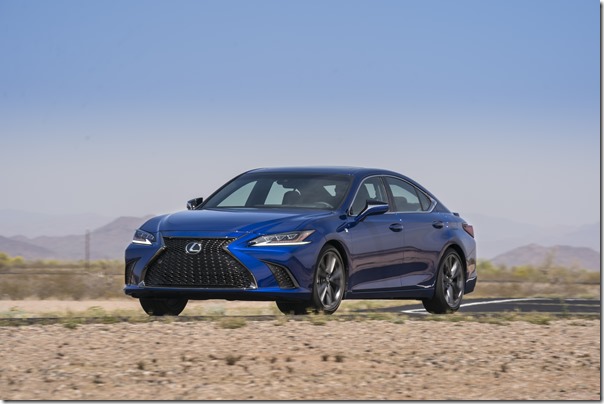 There is an ES 350 F SPORT model. There are a few noticeable design cues between it and the standard ES 350 (and 300h), such as a grille that has a blacked-out pattern with L-shaped clusters as compared to the vertical bars of the other models; the F SPORT also has a spoiler and a dark lower valance. On the inside, the F SPORT has a new metallic trim that is based on the methods of making a Japanese sword: called "Hadori," the aluminum material has a wave-like pattern that provides a three-dimensional appearance.
The 2019 ES is based on the company's new GA-K architecture, which is said to be a highly rigid design for a front-drive setup. There is an all new multi-link rear suspension. According to Yasuhiro Sakakibara, who led the engineering team, "We knew that this ES had to feel responsive and easy to drive, no matter what kind of road it was on and that can only be achieved with a solid foundation."
All of the ES 350 models are equipped with a 302-hp 3.5-liter V6 that is mated to a new eight-speed, direct-shift automatic transmission. The ES 300h has an Atkinson cycle, 2.5-liter four-cylinder gasoline engine that works with an electric motor; the total system horsepower is 215.
According to Cooper Ericksen, VP of Marketing for Lexus, the category that the ES competes in in the luxury space is #2 of 10, with #1 being the SUV segment, where the Lexus RX performs in a more than solid manner. There are, Ericksen says, about 350,000 annual sales in that second segment. In 2017 the ES accounted for 51,398 of those sales. Which further underlines the importance of the car to the brand, even in this period when SUVs seem to be the end all and be all. Sure, Lexus has an array of SUVs. But it isn't giving up on cars, as the all-new ES evinces.
Related Topics
RELATED CONTENT
Ram Truck chief exterior designer Joe Dehner talks about how they've developed the all-new pickup. "We've been building trucks for over 100 years," he says. "Best I could come up with is that this is our 15th-generation truck."  

Although the term "continuous improvement" is generally associated with another company, Honda is certainly pursuing that approach, as is evidenced by the Accord, which is now in its ninth generation.

Automotive manufacturers are meeting CAFE fuel-efficiency standards through lightweighting, which requires simulation software for design engineers.