Back in the late '90s, Toyota has an internal research organization named the "genesis group." An objective was to discern not only what the OEM's existing customers were interested in, but also what the emerging generations would like Eventually it gave rise to Scion, but in the interim it noted that the company offered an array of vehicles ranging from the ECHO to the Celica. While the former might have seemed to be not much more than a next-gen Tercel with a rather unusual interior execution, there was that Celica, which was characterized by a desirable—and affordable—edge.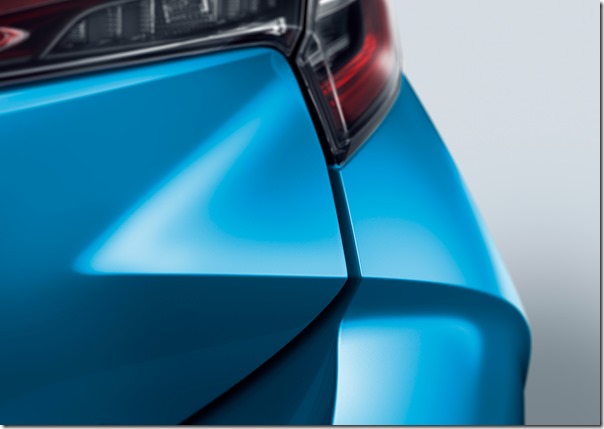 In the past few years, Toyota has been deliberately increasing the overall design quotient of its vehicles—cars, yes, cars are still important to the brand; and trucks. One could make the argument that when you look at the full line of vehicles, Toyota has on offer, as a full-line manufacturer it has among the most extensively, deliberately designed vehicles.
If these are "appliances," as the knock once had it, they are appliances designed by some Baroque master. Some people like them. Some people don't. But they can't but be noticed.
The Corolla XSE trim appears to be is what is typically known as a "hot hatch." It looks low and aggressive. It is formed to extremes. It is the sort of thing that that, based on its looks, might appeal to young people—or for older people who think they're young(er).
Now there is a caveat here. That is, while it is a hatch that looks hot, it isn't hot in the sense of being a small, light vehicle that can be tossed around with somewhat reckless abandon.
The curb weight is 3,060 pounds. The 2.0-liter engine produces 168 hp and drives the front wheels.
So if we look at what each horsepower is responsible for moving (weight to power ratio, rather than power to weight), it is 18.2 pounds per horsepower. Now that number out there doesn't necessarily mean much. So let's look at the number for another vehicle in the Toyota family—albeit one that is more expensive and bigger—the Lexus IS RWD. Its curb weight is 3,583 pounds and its 2.0-liter engine produces 241 horsepower, so its ratio is 14.9. Which is hot.
Now to be fair, know that the base MSRP for the Corolla XSE with a six-speed manual transmission—yes, a manual transmission, the sort of thing that one who is looking to actually drive the car with more than a smidge of exhilaration—is $22,990 (there is an automatic, CVT, available with a base MSRP of $24,090); the MSRP for the Lexus IS is $38,210, so the comparison is a bit, well, unbalanced.
Anyway, the XSE is a car that has good looks. A sport-tuned suspension.
The execution of the interior is done with appropriate materials and thought (with the former being driven by the latter).
The XSE has a solidity to it that is characteristic of what "Toyota" has long meant.
Affordable. Attractive. A six-speed.
The Corolla XSE is a good combination.
Related Topics
RELATED CONTENT
The thing about the Wrangler Willys Wheeler: It is a toy for a grown-up boy.

Here's a look at how Johnson Controls creates leading interiors as well as cool ideas for clever products.

A young(ish) guy that I've known for a number of years, a man who spent the better part of his career writing for auto buff books and who is a car racer on the side, mentioned to me that his wife has a used Lexus ES Hybrid.