65 and Safety

#Ford #FiatChryslerAutomobiles #supplier
Although 40 may be the new 20, 65 is still pretty much, well, 65, and it has been determined that by 2030, some 20 percent of the drivers in Europe will be older than 65.
When it comes to safety for senior drivers, this an issue because, according to Cecilia Sunnevång, Research Director at Autoliv Global Research, "Traditionally, all restraint systems have been designed for a 45 year-old man. In frontal legal and rating tests today the driver is always a male dummy."
There is an initiative in Europe called SENIORS that includes participation by Autoliv, as well as Humanetics Innovative Solutions, BASt, IDIADA, TRL, LMU, Ford and FCA called SENIORS that is conducting research into the elderly and movement—whether it's in a vehicle, on a bike or walking.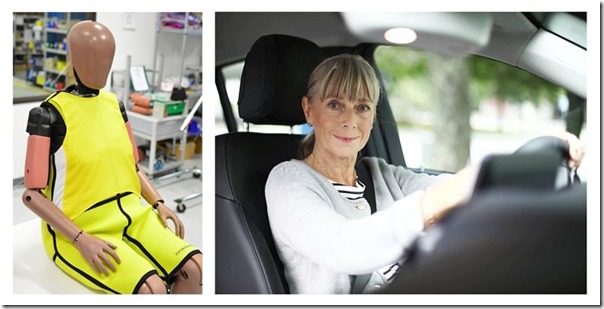 As part of this, a crash test dummy has been developed by Humanetics that represents a 70-year old female who is 5-feet, 3-inches tall and weighs 161 pounds (which seems as though the body mass index might be a bit out of line).
Sunnevång: "Having an elderly dummy with a different anthropometry is a significant step forward in designing protection for older occupants."
Like it or not, as you age, your bone density decreases and your connective tissues stiffen. All of which means that your interactions with a seatbelt and a frontal airbag aren't what they were when you were 45—or 20.