A Million Miatas
Production of the Mazda Miata—officially known as the "MX-5"—started in the Ujina Plat No. 1 in Hiroshima in April 1989, 27 years ago.
#Lamborghini #Mazda #oem
Production of the Mazda Miata—officially known as the "MX-5"—started in the Ujina Plat No. 1 in Hiroshima in April 1989, 27 years ago.
The car is now in its fourth generation.
And there have been, as of last Friday (April 22), one million of the cars produced.
The Miata has been holding the Guinness World record for the "best-selling open-top two-seater sports car" (admittedly a somewhat narrow category, but there are records that are even narrower, like the largest Spam musubi) since May 2000, when 531,890 were produced.
Award recalibration occurred in January 2002 (600,000), April 2005 (700,000) and February 2011 (900,000).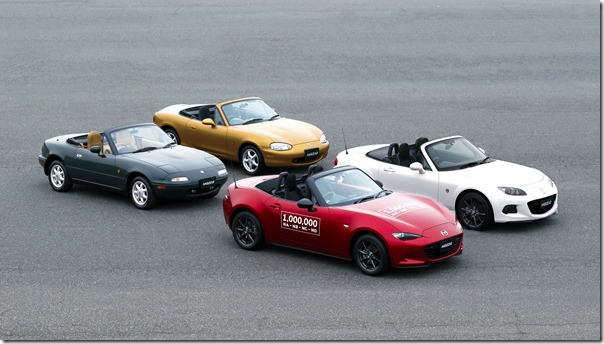 What's interesting about the MX-5 is that it is one of the handful of cars in the world that can truly be considered to be not only appreciated by fans, but also sufficiently affordable so that they can be purchased by fans.
Let's face it: we may really, really admire the Lamborghini Huracán LP 610-4, but chances are there aren't a whole lot of us who can afford one. (Lambo: from $237,250; Miata: from $24,915.)
Related Topics
RELATED CONTENT
For the right parts, or families of parts, an automated CNC turning cell is simply the least expensive way to produce high-quality parts. Here's why.

Here's an overview of the study of assembly plant productivity that gets the undivided attention of all automakers: "The Harbour Report." Although the Big Three companies are getting better, they still have a way to go. But given the levels of competition, better won't be good enough for some plants, it seems.

Honda is an engine company.