Aptiv's Sure Thing in Las Vegas
Autonomous driving technology developer Aptiv has just announced that it has established its Las Vegas Technical Center, a 130,000-sq. ft. facility that includes R&D, data management, a demo center and resources for vehicle operations: Las Vegas is the site of where Aptiv has its largest self-driving fleet: there are 75 vehicles operating there.
#supplier #Aptiv
In a couple of weeks there will be thousands of tech people descending on Las Vegas for the annual CES event (probably much to the chagrin of many casino owners because the preponderance of those people are either not that interested in gambling or those that are may have some intellectual or technical edge, or so they think).
While it may seem that Las Vegas is a tech hub but once a year, autonomous driving technology developer Aptiv has just announced that it has established its Las Vegas Technical Center, a 130,000-sq. ft. facility that includes R&D, data management, a demo center, and resources for vehicle operations: Las Vegas is the site of where Aptiv has its largest self-driving fleet: there are 75 vehicles operating there.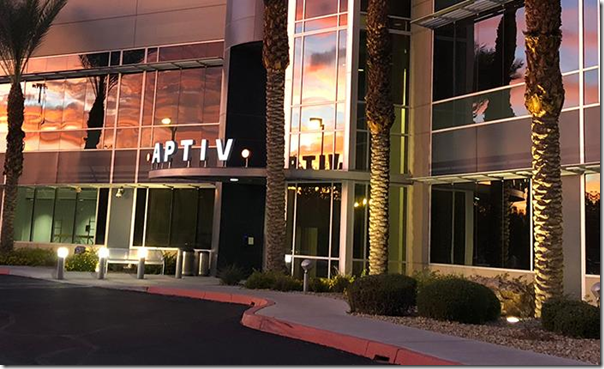 What is significant about this is that 30 of these vehicles are operating through a partnership with ride-hailing firm Lyft.
Aptiv/Lyft vehicles are going to more than 1,600 destinations in the city of Las Vegas, as well as in Clark Country—including the Las Vegas Convention Center, ground zero of CES.
The Aptiv/Lyft vehicles have racked up over 25,000 rides—paid rides.
While a number of companies are operating autonomous fleets in cities around the world in order to collect data—as Aptiv is—the fact that the company is generating revenue from a portion of its fleet is significant.
Karl Iagnemma, president of autonomous mobility at Aptiv, said, "The investment in our Las Vegas Technical Center gives us the ability to further advance the efficiency of our operations, gather key commercial AV learnings, and enhance safety operator training. We are proud to be setting the stage for future deployments, as we expand to more passengers in more cities around the world."
It is worth noting that in addition to Vegas Aptiv has three other autonomous vehicle hubs: Boston, Singapore and Pittsburgh.
RELATED CONTENT
BMW AG has reduced the monthly rates for the Access subscription program it launched in the U.S. earlier this year to make the offering more competitive with rival Mercedes-Benz's new service.

When you think of complex, highly technical devices that you use every day in your car—in fact, possibly as much as three to 10 times per minute—you probably don't think of your rearview mirror.

Bob Lutz of VFL Automotive joins Autoline After Hours to discuss the newly released Destino and the future of vehicular transportation