Atlas Lifting VW in the U.S.
In 2017 Volkswagen sold 339,676 vehicles in the United States.
#Toyota #oem #Volkswagen
In 2017 Volkswagen sold 339,676 vehicles in the United States. That's everything. Beetles and Jettas, Golfs and Passats, Tiguans and Touaregs. To put that number into context, know that in 2017 Toyota delivered 407,594 RAV4s. As VW had a 5.2 percent sales increase in 2017 compared with 2016, that was a good thing. But things can certainly can get better.
Which brings us to what happened today in Chattanooga, Tennessee.
Volkswagen produced in its plant there, a facility started production in April 2011 with the "American" Passat , its 100,000th Atlas SUV.
It began building the vehicles in December 2016. The Atlas went on the U.S. market in May 2017.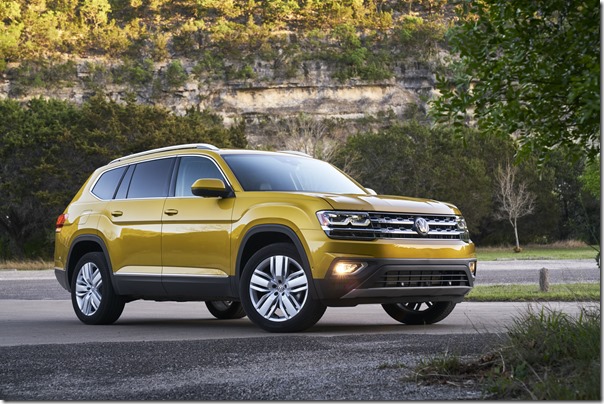 So put that into context: that single vehicle's production accounts for about a third of all of the vehicles that VW sold in the U.S. last year. (OK: it sold 27,119 Atlas models in 2017, so it had a positive effect then.)
From January through September VW sold 43,002 Atlas's in the U.S., which is a 251.6 percent increase over the same period in 2017.
Clearly, with the Atlas VW is back on a roll in the U.S. market, with momentum to build.
As Antonio Pinto, CEO of Volkswagen Chattanooga, put it regarding the 100,000 milestone, "Our objective for the Atlas has been to assemble an SUV in America for Americans and we have been very encouraged by the success of the vehicle so far."
And they should be.
Related Topics
RELATED CONTENT
For conducting business in the U.S. market, Toyota has historically had several separate business entities: a sales and distribution company headquartered in California (Toyota Motor Sales, USA); manufacturing operations (Toyota Motor Manufacturing North America); a racing subsidiary (Toyota Racing Development, USA); the Toyota Technical Center for R&D in Ann Arbor; and a design facility in California (Calty Design Research, Inc.). On April 1, 2006, Toyota merged its R&D operations and its manufacturing operations into a single company.

When you think of Costco, you probably think about buying lots of stuff for your home and your family, but there are probably some things that don't necessarily come to mind when you think of the membership-based store chain.

What happens if that $2.29 a gallon goes up by a couple of bucks a year from now? How are the pickup, SUV and crossover sales going to be then?