Back to Two Wheels for Mobility
Although the amount of attention on the development of autonomous vehicles is staggering given that there probably isn't an outlet that hasn't devoted time or space to the prospect of robotic vehicles, what people seem to have lost sight of are the facts that (1) initial applications are going to be in geo-fenced areas and (2) the autonomous vehicles are likely to be shared vehicles, which will also have a consequence on where they travel.
#Peugeot #PSAPeugeotCitroen #Jaguar
Although the amount of attention on the development of autonomous vehicles is staggering given that there probably isn't an outlet that hasn't devoted time or space to the prospect of robotic vehicles, what people seem to have lost sight of are the facts that (1) initial applications are going to be in geo-fenced areas and (2) the autonomous vehicles are likely to be shared vehicles, which will also have a consequence on where they travel.
One of the things that transportation planners are doing is to look at the entire mobility system, as in how one will get to a destination through various means. That is, it may be that one will drive one's own vehicle to a station, take an autonomous vehicle to another station, then take another means of transportation for what's generally referred to as "the last mile."
And that may not be a car. It could be—and yes, this is dependent on various factors, ranging from age to climate—a bicycle.
Let's face it: while the Wright Brothers were bicycle mechanics and gave rise to the aircraft industry, in Europe bicycle companies, like Peugeot, became part of the auto industry. (And in the case of Peugeot, it still produces bikes.)
Even today there are people in cities including Amsterdam, Paris, London, and Chicago who avail themselves of two-wheeled, human-powered transportation for part of their daily commute.
Which brings us to the Whippet Bicycle, which has been designed, engineered and developed by Graham Powell, a graduate of the Royal College of Art and Imperial College (and a former technical engineering apprentice), and which is being produced in the midlands of the U.K.
Powell's Whippet is a folding bicycle, which means it lends itself to city riding. While there are other folding bikes on the market, the Whippet doesn't have the traditional hinged design but rather uses in-line retraction (which makes more sense when you look at the pictures). Once folded, it is about 30 percent of its original volume, and it is designed so that it can be rolled along, upright, on its rear tire (the Whippet uses standard 20-inch tires, or tyres, as the case may be); a handle is integrated into the structure for guidance.
Like a conventional bike it has a class diamond frame. But the primary tubes have an oval cross section so that they provide a smooth ride through what is referred to as "controlled flexing." These tubes are made with Columbus 25CrMo4. The tubing for the chain and seat stays is made with Reynolds 631 steel. The components are fillet brazed by Lee Cooper Cycle Frames in Coventry.
According to Powell, "The bicycle was launched just a few weeks ago here in U.K. It has been designed, developed and made here in the midlands . We are situated in the heart of the U.K.'s automotive industry, very close to Coventry and also being close to Jaguar Land Rover and Aston Martin HQs. The next stage, that we are currently working on, is to manufacture in the U.K. also."
This is a bicycle designed not only to be a bicycle (Powell is a riding enthusiast) but designed so well that it is almost like sculpture.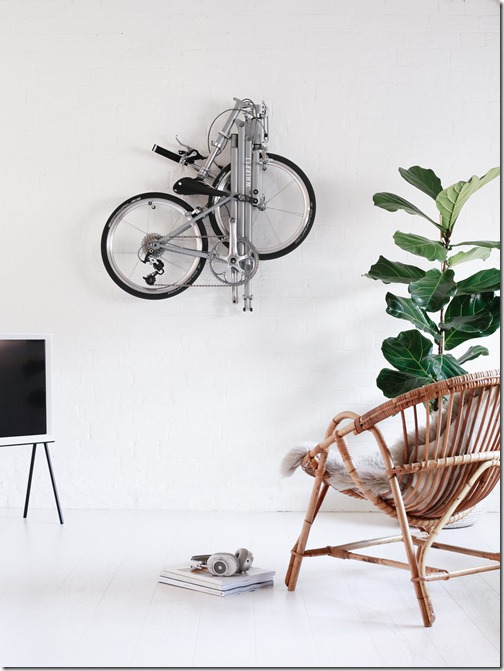 While it will soon become available (if you're interested, Powell recommends that you go to the bottom of this page and sign up for updates), it is certainly the kind of transport that would make the last mile all the better.
(Speaking of the last mile: you might want to keep October 25 open on your calendar as we will be holding the 2017 Autonomy & Mobility Conference in Detroit. More information will be made available as we get closer to the event.)
Related Topics
RELATED CONTENT
According to Kunihiro Hoshi, chief engineer for the GX 470: "Three of my top goals were to create a body-on-frame vehicle with sweeping off-road performance and unibody-like on-road capability, and, of course, it had to meet the Lexus quality standard." He met his goals. But why would anyone want to bang this vehicle around on rocks?

For the right parts, or families of parts, an automated CNC turning cell is simply the least expensive way to produce high-quality parts. Here's why.

Additive manufacturing (AM) is just one manufacturing method that drives advanced mobility forward and also has a history of embracing the digital connectivity demanded by this trend.