BMW Is Big on Additive
Here are some interesting numbers recently reported by BMW, starting with one-million, which is the number of 3D printed components that the company has used in series production since it started using the additive process for production purposes back in 2010.
The component in question is a window guide rail for the BMW i8 Roadster.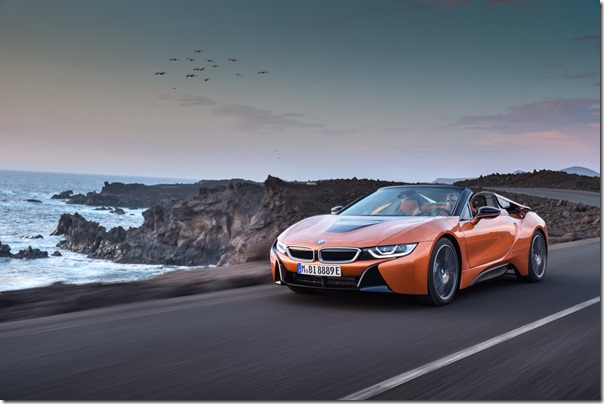 Speaking of which, it is worth noting that in the U.S., the sales of the i8 for October 2018 were up a massive 93.9 percent compared to October 2017, and for the first 10 months of 2018, i8 sales were up in the U.S. 48.9 percent compared to the same period in 2017.
But as the total i8 sales in October were 64 and the number for the year is 542, we're not talking about what could be considered "mass production."
That said, the i8 window rail component, produced with HP Multi Jet Fusion Technology with an HP Jet Fusion 4200 at the BMW Group Additive Manufacturing Center, was developed in just five days. It was put on the production line in Leipzig days later for series production of the i8.
The system has the capability of producing as many as 100 window rails in just 24 hours.
Which means, of course, that the full production for the first 10 months of i8s sold in the U.S. could be accomplished in less than a week.
BMW is bullish on additive, as that one-million number indicates. According to Dr. Jens Ertel, director of the BMW Group Additive Manufacturing Center: "The use of components made by additive manufacturing in series production of vehicles is increasing particularly strongly at the moment. We are following the development and application of advanced these manufacturing methods very closely indeed, partly through longstanding cooperations with leading manufacturers in the field. At the same time, we are engaging in targeted technology scouting and evaluating innovative production systems."
Among the multitudinous components produced for BMW Group vehicles include an aluminum alloy fixture used for the i8 soft-top attachment; various components available as part of the MINI Yours Customized program (e.g., indicator inlays, dashboard trim strips); fixtures for the fiber optic guides in the Rolls-Royce Dawn (Rolls uses a total of 10 3D printed components in its vehicles); and more.
BMW Group anticipates producing as many as 200,000 3D printed components in 2018, which is 42 percent increase compared to 2017's output.
Related Topics
RELATED CONTENT
Topology optimization cuts part development time and costs, material consumption, and product weight. And it works with additive, subtractive, and all other types of manufacturing processes, too.

If you look at the top of the cab of that Mack Anthem Class 8 truck you'll note the way it arcs back to the trailer.

There is a lot of discussion about how 3D printing/rapid prototyping/additive manufacturing is revolutionizing manufacturing, including automotive manufacturing.