Camaro Hot Wheels
While at the Tokyo Motor Show this week various vehicle manufacturers were showing off all manner of cars and crossovers and transportation devices that typically had to do with something autonomous, connected and/or electrified (ACE, as CAR's Brett Smith categorizes this burgeoning field), the guys from Chevy were in El Segundo, California, showing off a different take on what can best be described as "toys for boys"—boys who do or don't have driver's licenses.
They went to Hot Wheels HQ—yes, as in the small cars that drive big dreams—to announce the 2018 Camaro Hot Wheels 50th Anniversary Edition.
Explained Tom Peters, director of Exterior Design for Chevrolet Performance Cars, "The Chevrolet Performance design studio is full of designers who were inspired by Hot Wheels. The Camaro Hot Wheels 50th Anniversary Edition captures that passion, turning childhood fantasy into reality."
So rather than something that might not be able to get out of its own way unless there is a robust tailwind, they revealed a Crush orange sets of cars, coupes and convertibles, including one based on the 2SS, which happens to have a 455-hp, 6.2-liter V8 under its hood.
There is also the more modest version that uses the 2LT, which has a 2.0-liter turbocharged four, but even that puts out 275 hp.
The upcharge for the Hot Wheels package is $4,995.
Chris Down, senior vice president and Global Brand GM, Hot Wheels, chimed in about the significance: "In the 1960s Hot Wheels and Camaro challenged vehicle design by elevating the speed, power and performance of both die-cast and pony cars alike. For 50 years, both brands have developed high-performance cars that embody the challenger spirit."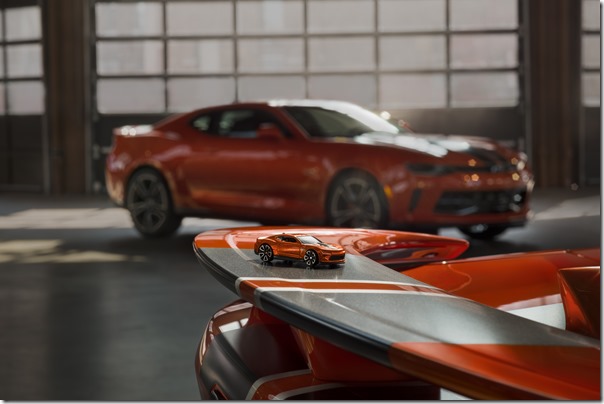 Motor-head boomers across the country area undoubtedly geeked, though trying to figure out if they'll be able to hide the 2018 Camaro Hot Wheels 50th Anniversary Edition from their spouses as they do their Hot Wheels Roto Revolution Track Set .
Related Topics
RELATED CONTENT
Elio Motors is something of a brash company.

Although all OEMs and suppliers do their utmost best to assure nothing but top-notch quality is achieved for their vehicles and systems, sometimes things simply go wrong because, well, that's just how the Universe is.

Akio Toyoda, president of Toyota Motor Corp., said at CES today that his goal is to transform Toyota from being a car company to becoming a mobility company.