Car Colours in the U.K.
Given the seemingly dire state of affairs that is quite possibly going to occur in the U.K. given the inability to decide just how Brexit is going to be orchestrated so as not to cause massive problems to the economy, it comes as a bit of a surprise that according to the Society of Motor Manufacturers and Traders (SMMT), a U.K. automotive trade association (on January 15, Mike Hawes, chief executive of the organization, stated, "The vote against the Brexit deal on the table brings us closer to the 'no deal' cliff edge that would be catastrophic for the automotive industry," so you can see that things are rather desperate), while you might think that the U.K. car buyer might opt for black exterior paint, so as to reflect the situation, that's not the case.
When it came to U.K. registrations for 2018, black, which was #1 in 2017, fell to second place, usurped by grey.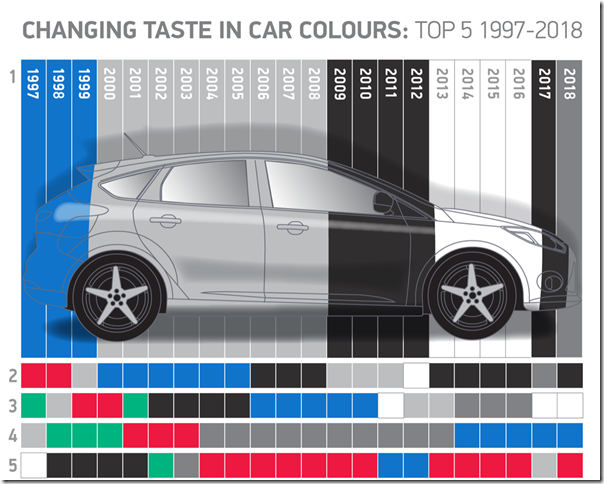 It should be noted that according to the SMMT, which has been tracking the color (or "colour") palette since 1997, this is the first time that grey has taken the top spot (if you're wondering about the color for 2000 to 2008 shown in the accompanying graphic, that's supposed to be silver).
Black did have a second-place showing, just 0.7 percent of market share behind grey (20.2 percent compared with 20.9 percent of the total market).
The top three grey vehicles in the U.K. in 2018 were, in order, the Ford Fiesta, Volkswagen Golf and Vauxhall Corsa.
The Scottish were more optimistic in 2018, with white being the color of vehicular choice, while in Northern Ireland and Wales grey prevailed.
Let's face it: as colors go, grey is fairly gloomy, so maybe it does match the prevailing mood.
Related Topics
RELATED CONTENT
Although the term "continuous improvement" is generally associated with another company, Honda is certainly pursuing that approach, as is evidenced by the Accord, which is now in its ninth generation.

Systems engineering in increasingly being recognized as a valuable approach to vehicle development - both in design and production. Siemens posits that PLM is the right software system for systems engineering.

A young(ish) guy that I've known for a number of years, a man who spent the better part of his career writing for auto buff books and who is a car racer on the side, mentioned to me that his wife has a used Lexus ES Hybrid.