Chevy Develops eCOPO Camaro: The Fast and the Electric

#Pontiac #Chevrolet #BorgWarner
The notion that electric vehicles were the sort of thing that well-meaning professors who wear tweed jackets with elbow patches drove in order to help save the environment was pretty much annihilated when Tesla added the Ludicrous+ mode to the Model S which propelled the vehicle from 0 to 60 mph in less than 3 seconds. Electric performance suddenly became a "thing" that wasn't limited to those who had always known that the instant torque provided by an electric motor is exhilarating.
Which brings us to the 2019 Chevrolet eCOPO Camaro concept, which was developed by GM in partnership with Hancock and Lane Racing, an electric drag racing team.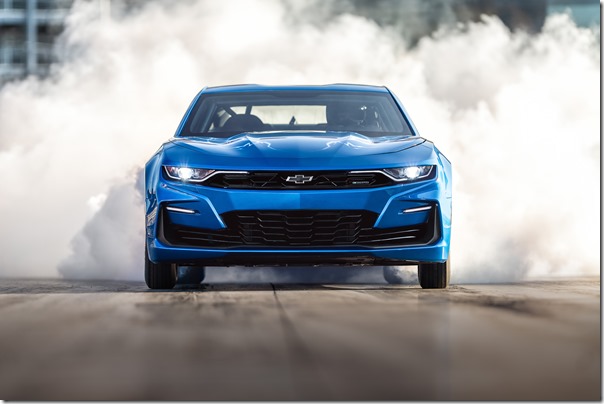 Under the Electric Blue hood (presumably a color formulated for the concept) sits a pair of BorgWarner HVH 250-150 motor assemblies in place on an engine. There is a racing-prepared "Turbo 400" automatic transmission that, with the exception of being racing prepared, is conventional: it moves the torque to the solid rear axle (which is also conventional in COPO Camaro race cars).
Speaking of torque: it is 600 lb-ft. The horsepower equivalent produced is more than 700. While they're still testing the vehicle, Chevy engineers estimate that the quarter-mile time for the car will be on the order of nine seconds.
The eCOPO is equipped with an 800-volt battery pack that consists of four 200-volt modules, each weighing approximately 175 pounds. The battery packs are strategically located—two behind the rear seat; two in the trunk—so as to provide good weight distribution: there is a 56 percent rear-weight bias.
Notes Russ O'Blenes, director, Performance Variants, Parts and Motorsports at General Motors, "Eight hundred volts is more than twice the voltage of the battery packs in the production Chevrolet Volt and Bolt EV, so the eCOPO pushes into new technological territory."
He adds, O'Blenes. "As GM advances its electrification leadership, a big step might just come from the drag strip."
It is also worth noting of the development of the eCOPO that it involved more than a dozen high school students from Bothell High School in the Seattle area, as its automotive technology program works with Patrick McCue, who is behind the record-holding electric drag racing car, "Shock and Awe" (which, incidentally, is based on a Pontiac Firebird).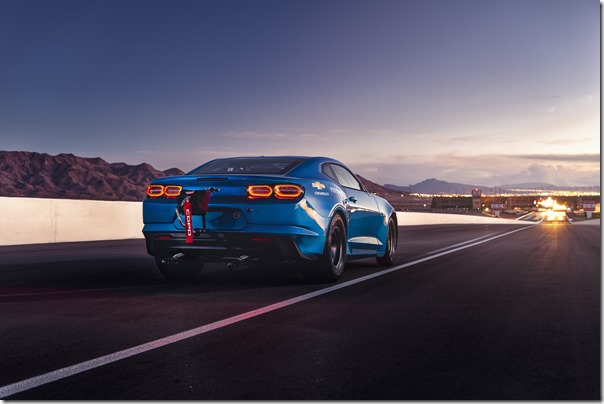 O'Blenes: "This project exemplifies Chevrolet and General Motors' commitment to engaging young minds in STEM education. It also represents our goal of a world with zero emissions, with the next generation of engineers and scientists who will help us get there."
Get there, dare we say, faster.
RELATED CONTENT
The Mazda CX-5 first appeared on the scene in 2012, and for 2017, the vehicle has undergone some major transformations, to enhance what was already a notable small crossover.

Chrysler pioneered the modern-day minivan more than 30 years ago and has been refining and improving that type of vehicle ever since.

Mercedes has been putting diesels in vehicles since 1926. It has been offering them in the U.S. since 1949. And 2013 is seeing a range of offerings, including in its popular GLK SUV.