Chevy's ZR2, Ford's Apple Pick & More
The forthcoming Chevy Colorado ZR2 is designed and engineered to be able to handle off-road situations of all types with aplomb. Compared to the conventional Colorado, the suspension is lifted two inches for greater ground clearance. And because the ground is not always cleared, the front bumper integrates an aluminum skid plate that protects the radiator and oil pan, and there is a shield to protect the transfer case, as well. In addition to which there are steel tube rocker protectors running along the sides because, again, sometimes when you're crawling over rocks, the rocks get in the way. Compared to the standard Colorado, the front and rear track are increased so the truck is 3.5-inches wider, so that it is better planted to deal with demanding traverses. There are cast-iron control arms in place, again to address the demands of off-road conditions.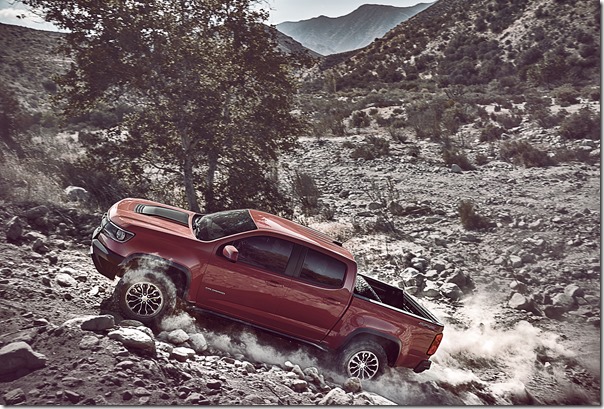 And there is the use of DSSV damper technology—that's as in Dynamic Suspensions Spool Valve—from Multimatic, a company that is better known for its involvement in supplying dampers for vehicles that go really fast (e.g., the Camaro Z28), not that are driving through Moab.
An interesting aspect of these dampers, explains Anita Burke, chief engineer, GM Midsize Trucks, is that not only does the multiple valving mean that they can accommodate the toughest of terrain, but they also provide the sort of damping that is expected by those who are looking for smooth operation on their drives to and from the off-road course. This is because, Burke says on this edition of "Autoline After Hours," that people who buy midsize trucks like the Colorado (including the ZR2 variant, which will become available Spring 2017), not only use their trucks for adventuring, but also plain-old commuting. These are people who want something capable, but also something that won't beat them up on their everyday driving. (And if their everyday driving happens to be more like the Rubicon than the interstate, then the DSSV helps accommodate that, too, thank you very much.)
Burke talks about the ZR2, the other non-ZR2 Colorados, and the GMC Canyon, too (remember: she is the chief engineer for all GM midsize trucks) to Autoline's John McElory, Chris Paukert of Roadshow by CNET and me on the show.
Then McElroy, Paukert and I discuss a number of subjects from Ford's recent hire from Apple, NAFTA and what the implications could be for auto, NHTSA's Tesla Autopilot accident absolution, and more on the show.
And you can see it here:
RELATED CONTENT
Chrysler pioneered the modern-day minivan more than 30 years ago and has been refining and improving that type of vehicle ever since.

Honda is an engine company.

The 2016 model is all-new. As in platform and everything else. And the platform—which will have global use—was developed in North America.