Designworks Works on Hyperloop Interior Design
Do you ever go to the drive-through window in your bank and use one of those canisters that you put your checks, money, whatever in and then watch it shoot through a tube to the teller inside the building? (Yes, there are still tellers, ATMs notwithstanding. People are worried about robots taking over factory jobs. People ought to be worried about ATMs taking over tellers' jobs.)
That system works on pneumatics. But it is not wholly unlike the Hyperloop, inasmuch as there are capsules and tubes.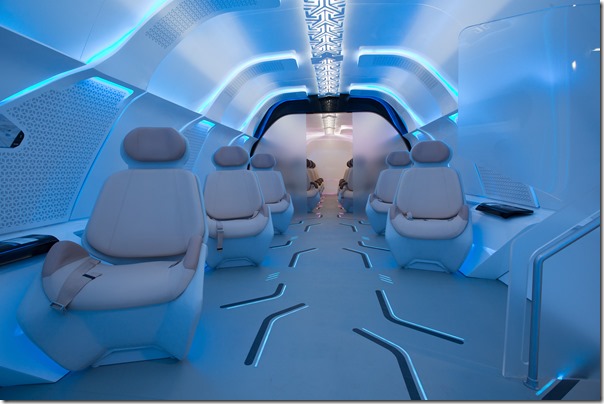 BMW's Designworks, which not only has worked on cars, but has extensive experience on aircraft interiors, as well, recently showed the interior that it has designed for the Virgin Hyperloop One system; it worked with Virgin and the Roads and Transport Authority of Dubai on what promises to be a route between Dubai and Abu Dhabi.
That trip of approximately 90 miles is expected to be done in about 12 minutes, as the Hyperloop capsule can reach speeds of some 670 mph.
However, unlike the plastic tube that your checks ride through, the Hyperloop pipes are metal, not clear. Consequently, the capsules for the commuters don't have windows.
This is a concern from a psychological point of view.
What's more, the people must be seated during the transit (think only of the acceleration forces that will occur in order to reach those speeds in a comparatively short timespan).
According to Designworks LA studio design director Johannes Lampela, "With the Virgin Hyperloop One design, we wanted to create a new visual expression for a new mode of public transportation."
So they paid careful attention to things like providing personal space for passengers, and working with lighting and displays that the passengers can control to counteract what might be somewhat claustrophobic. The seats include integrated heating and cooling. There is also lighting on other interior surfaces, including the floor. And because of where the capsule will be operating, the designers took inspiration from traditional Arabic patterns, which they integrated into the design.
At this point it is not clear when—or if—the hyperloop system will go into production.
Related Topics
RELATED CONTENT
Hyundai enters the American market with a new parallel hybrid system that uses lithium-polymer batteries and the same six-speed automatic found in non-hybrid versions of the 2011 Sonata.

The high-end automotive CAD/CAM systems do a whole lot more than their name implies. In addition to design and manufacturing, they have the ability to support analysis, product data management, and more.

Designing lighter, stronger and more cost-effective automotive products provides a solid competitive edge to the companies that produce them. Here's why some are switching their materials from steel to magnesium. (Sponsored Content)