Ducati Performance

#TriumphMotorcycles #Volkswagen #HarleyDavidson
Back in 2012 Audi bought Italian motorcycle manufacturer extraordinaire Ducati for €860-million which, at the time, probably seemed like a good idea. In some regards, it probably still is, because the company reported record 2015 sales, delivering 54,800 bikes globally, a 22% (9,683 units) increase over 2014.
The biggest market for Ducati is the U.S., where it had a 14% increase in sales.
Meanwhile, Harley-Davidson has been sputtering.
With the costs that will be associated in fixing the diesel engines in Volkswagens and Audis there has been some thought that Volkswagen Group might want to increase its funds by selling off units, such as Ducati, so presumably the 2014 performance would underscore the value of the motorcycle producer.
Moving on from managerial issues to design, Ducati revealed this week the draXter, a concept bike based on its XDiavel. While that bike is a cruiser, the designers in Ducati Design Center's Advanced Design created a sports variant.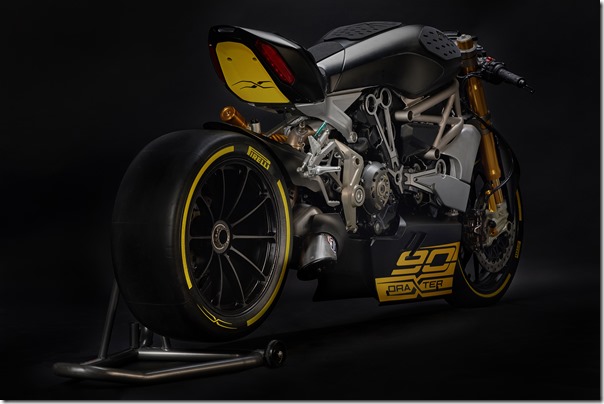 For example, the suspension and brakes are taken from the Ducati Panigale Superbike.
Lines and proportions are exaggerated to the extreme, underlining the performance racing aspect of the draXter.
The 90? It signifies Ducati's anniversary that is being marked this year.
RELATED CONTENT
Once the playground of exotic car makers, the definition of a niche vehicle has expanded to include image vehicles for mainstream OEMs, and specialist models produced on high-volume platforms.

When Suzuki developed the GSX1300R, it set out to build the fastest mass-production motorcycle on the market. As competitors gained ground and stringent emission regulations were set, Suzuki set out to reinvent the bike.

The little car that could still can. And this time as a car that not only gets great fuel economy, but which has ride and handling that makes it more than an econo-box (and its styling is anything but boxy).