Ducati Performance

#Audi #Volkswagen #TriumphMotorcycles
Back in 2012 Audi bought Italian motorcycle manufacturer extraordinaire Ducati for €860-million which, at the time, probably seemed like a good idea. In some regards, it probably still is, because the company reported record 2015 sales, delivering 54,800 bikes globally, a 22% (9,683 units) increase over 2014.
The biggest market for Ducati is the U.S., where it had a 14% increase in sales.
Meanwhile, Harley-Davidson has been sputtering.
With the costs that will be associated in fixing the diesel engines in Volkswagens and Audis there has been some thought that Volkswagen Group might want to increase its funds by selling off units, such as Ducati, so presumably the 2014 performance would underscore the value of the motorcycle producer.
Moving on from managerial issues to design, Ducati revealed this week the draXter, a concept bike based on its XDiavel. While that bike is a cruiser, the designers in Ducati Design Center's Advanced Design created a sports variant.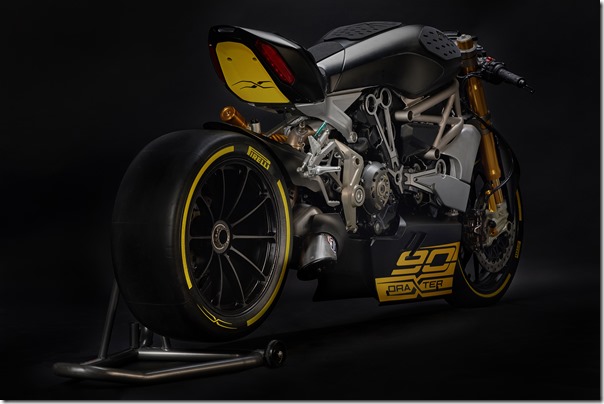 For example, the suspension and brakes are taken from the Ducati Panigale Superbike.
Lines and proportions are exaggerated to the extreme, underlining the performance racing aspect of the draXter.
The 90? It signifies Ducati's anniversary that is being marked this year.
RELATED CONTENT
For conducting business in the U.S. market, Toyota has historically had several separate business entities: a sales and distribution company headquartered in California (Toyota Motor Sales, USA); manufacturing operations (Toyota Motor Manufacturing North America); a racing subsidiary (Toyota Racing Development, USA); the Toyota Technical Center for R&D in Ann Arbor; and a design facility in California (Calty Design Research, Inc.). On April 1, 2006, Toyota merged its R&D operations and its manufacturing operations into a single company.

Often when there are vehicles that have ceased production and are in the process of being completely moved out of the system there are sales numbers that look like this: Honda Insight: June 2016, 9; June 2015, 126; % change: 93.1% Sometimes there is a vehicle that has just gone into production and it catches the sales at just the right time so that there are numbers that look like this: Honda Ridgeline: June 2016, 2,472; June 2015, 7; % change: 33,856% OK.

The previous-generation Hyundai Elantra (2010 to 2015) had the edgy Fluidic Sculpture design forming its sheet metal; it's bigger brethren, the Sonata, was more visible in this regard, though the smaller size of the Elantra gave the skin a greater tautness than was the case on the Sonata.