Honda's Most Powerful U.S. Engine—in a Crate
Honda is an engine company.
#racing #Honda #HP
Honda is an engine company. It just happens to wrap things around those engines, like Accords, Gold Wings and snow blowers.
One of the engines in the company's suite of offerings comes off a production line in Anna, Ohio. It is the most powerful Honda production engine ever made in America. It is the engine that is used to power the 2017 Civic Type R, which is said to be the fastest front-wheel-drive production car in the world.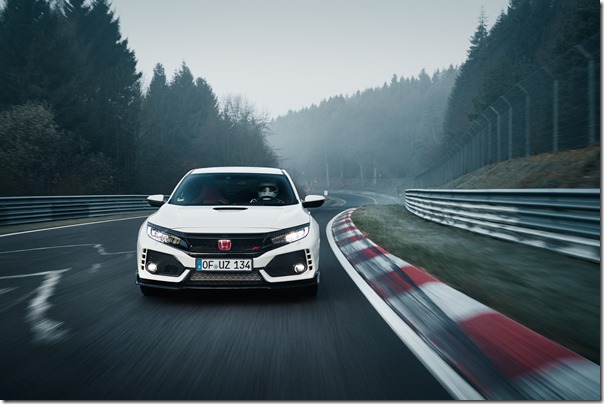 The Type R ran the Nurburgring Nordschleife in a record 7 minutes 43.80 seconds
That's right: world.
The 2.0-liter VTEC turbocharged engine produces 306 hp @ 6,500 rpm and 295 lb-ft of torque at from 2,500 to 4,500 rpm.
The engine features a die cast aluminum block with cast iron cylinder sleeves; the cylinder walls are plateau honed to minimize friction. The head is a pressure-cast aluminum alloy; exhaust ports are cast directly into the head, thereby eliminating the need for a conventional exhaust manifold (and the associated mass). There is a lightweight forged-steel crankshaft with mircopolished journals and forged steel connecting rods. The pistons have cavity-shaped crowns for improved combustion and a low-friction molybdenum coating is applied in a dot pattern onto the outer skirts of the aluminum pistons. The piston rings are ion-plated.
Type R engine with intercooler
Honda Racing
Hondas have long had a solid pride of place within the grassroots racing community (yes, and the professional ranks, as well).
So this week at SEMA Honda announced that the Type R engine is being made as a crate engine through the Honda Performance Development's (HPD) Honda Racing Line program.
The engine—code named K20C1—will cost $6,519.87 (delivery not included).
Speaking of delivery: One interesting aspect of the 2017 Civic Type R is that while its engine is manufactured by Honda of America Manufacturing, the engine is shipped to Honda of the U.K. Manufacturing, as the car is produced in Swindon, England.
Related Topics
RELATED CONTENT
While aluminum vs. steel is getting more contentious in the world of light-duty trucks, when it comes to creating structures, the heavy-duty truck people know something important about strength and mass.

How carbon fiber is utilized is as different as the vehicles on which it is used. From full carbon tubs to partial panels to welded steel tube sandwich structures, the only limitation is imagination.

A young(ish) guy that I've known for a number of years, a man who spent the better part of his career writing for auto buff books and who is a car racer on the side, mentioned to me that his wife has a used Lexus ES Hybrid.