HP Launches Industrial Grade 3D Printer
"Siemens and HP are thinking ahead to the future and are bringing together the best from both companies in a complete, industry-specific solution that will accelerate the adoption of industrial additive manufacturing and help our customers to increase flexibility, efficiency, and speed of digital manufacturing."
#Jaguar Land Rover #HP #Jaguar
To get a sense of just how serious HP is about actually doing high-volume manufacturing with its new Jet Fusion 5200 3D printing system, know that when introducing the unit, which literally uses what can be considered print heads that provide a building speed on a machine of up to 309 in3/hr, Ramon Pastor, general manager and global head of Plastics Solutions at HP 3D Printing & Digital Manufacturing, talks about having a machine that has "industrial level overall equipment effectiveness," the sort of thing that one might hear regarding a machining center, and points out that because HP is a mass manufacturer it understands such things as the process capability index (Cpk), so the company has devised process control software for the 5200 Series that includes a machine-learning algorithm, which means that the printer will get closer and closer to its target value. "We are delivering a Cpk of 1.3," Pastor says, adding, "We ask our vendors for 1.3."
(Images: HP)
There are three machines in the series, the 5200, 5210 and 5210 Pro, which is a capability walk toward more functionality and capability.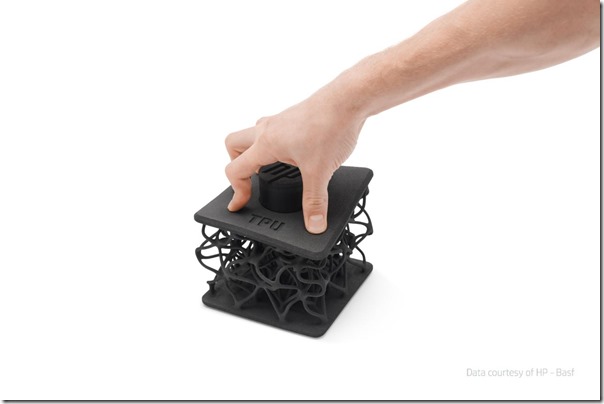 "We are building a new market, a digital manufacturing market," Pastor says, so to that end they are assiduously working with other companies, be they users (e.g., Jaguar Land Rover, whose Ben Wilson, additive manufacturing manager, said, "Our work with HP to advance our knowledge and in-house capability in 3D printing has been an important step toward production of quality parts to support current and aftermarket customers. The continuation of this collaboration through the early use of the new HP Jet Fusion 5200 3D printing platform will help us to better understand opportunities to unlock new application areas whilst supporting investigations to advance the productivity, efficiency and reliability of the technology.") as well as technology partners, such as Siemens (Klaus Helmrich, CEO of Siemens Digital Industries and member of the Siemens Managing Board: "Innovative partnerships and cutting-edge technologies such as additive manufacturing are essential for the digital transformation of companies across industries. Siemens and HP are thinking ahead to the future and are bringing together the best from both companies in a complete, industry-specific solution that will accelerate the adoption of industrial additive manufacturing and help our customers to increase flexibility, efficiency, and speed of digital manufacturing.")
What's more, HP is deploying a new thermoplastic polyurethane (TPU) from BASF, ULTRASINT, which can be used to produce flexible and elastic parts. HP also offers PA 11 and PA 12 materials for use with the printer.
Related Topics
RELATED CONTENT
If you look at the top of the cab of that Mack Anthem Class 8 truck you'll note the way it arcs back to the trailer.

This is a 1979 Mercedes-Benz G-Class, the first year the model appeared with its Schwarzeneggerian robustness, which happens to be incased in a block of amber-colored resin:   Unlike the insects that are sometimes found encased in actual amber, objects that you can hold in your hand, this object measures 5.50 meters long, 2.55 meters wide and 3.10 meters high.

We're not going to make the case that moving away from plastic body panels caused the ultimate demise of Saturn. But if you take away the front and rear fascias, it is somewhat difficult to come up with cars that have a significant use of polymers for exterior body panels. Here are some notable ones.