Indianapolis and the Chevrolets
When it comes to the auto industry, you'll often hear "It's all about the product." But arguably, it is really all about the people in a way that generally isn't the case with other industries.
#oem #HP #Honda
When it comes to the auto industry, you'll often hear "It's all about the product."
But arguably, it is really all about the people in a way that generally isn't the case with other industries.
Just consider:
· David Dunbar Buick
· Henry Ford
· Soichiro Honda
· Kiichiro Toyoda (yes, the family name has a "D")
· Karl Benz (the Mercedes part came from the name of the daughter of Emil Jellinek, who was an early dealer of vehicles built by Gottleib Daimler and Wilhelm Maybach)
Which brings us to Louis Chevrolet, the man who established, in 1911, well, you know.
But what you probably don't know is that he had two brothers, Arthur and Gaston.
1911 was the first year the Indianapolis 500 was run.
Arthur Chevrolet competed in the first Indianapolis 500. (Oddly, he raced for Buick.)
Gaston Chevrolet not only ran in the 1920 Indianapolis 500, but he won it.
Gaston didn't drive a Chevy, either. He raced a Frontenac, which came from the company that he and his brothers established in 1914 (Louis had left Chevrolet). They established the company in Indianapolis. Small world.
Since 1948 a Chevrolet has been a pace car at the Indianapolis 500 28 times. The first year it was a Fleetmaster Six.
There have been 14 times that that Chevy has been a Corvette.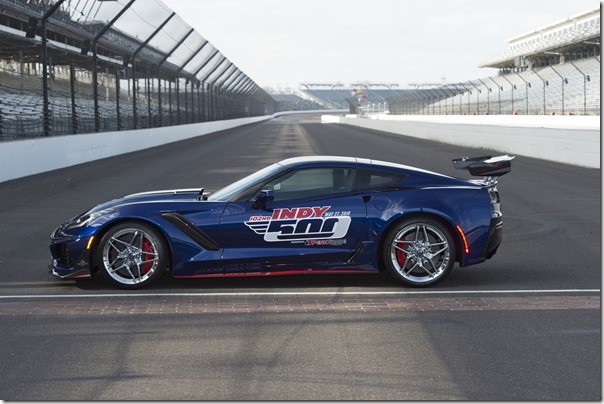 For the 102nd race, which is scheduled for May 27, there will be the 15th Corvette leading the field, a 2019 ZR1.
As this car happens to have a 755-hp LT5 small block supercharged 6.2-liter V8 under its hood and the ability to go from 0 to 60 mph in 2.85 seconds and to hit 212 mph, it certainly is the kind of car that ought to be at The Greatest Spectacle in Racing.
Incidentally: there are two manufacturers that provide the 2.2-liter, twin-turbocharged V6 engines that power the cars that race in the Verizon Indycar Series.
One is Honda.
The other: Chevrolet.