Lease a BMW and Share It
Although BMW Group did remarkably well sales-wise in 2017, setting a new global record (2,463,526 vehicles), and although the BMW brand will have the new X2 and 8 Series vehicles for 2018 and the MINI brand will have the 3- and 5-door models, as well as the MINI Convertible, it is interesting to note that BMW Group Financial Services is addressing a growing issue (apparently) in the U.S.: car sharing.
#MINI #BMW #oem
Although BMW Group did remarkably well sales-wise in 2017, setting a new global record (2,463,526 vehicles), and although the BMW brand will have the new X2 and 8 Series vehicles for 2018 and the MINI brand will have the 3- and 5-door models, as well as the MINI Convertible, it is interesting to note that BMW Group Financial Services is addressing a growing issue (apparently) in the U.S.: car sharing.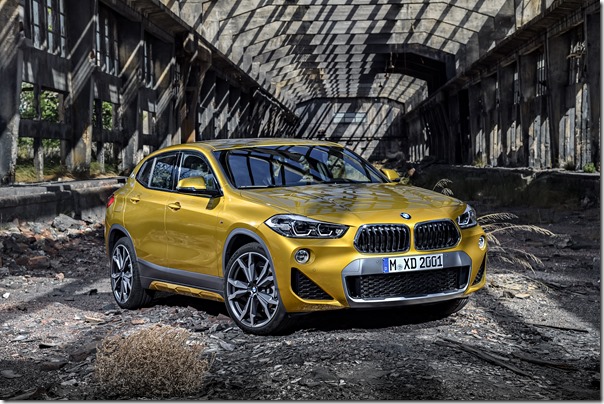 BMW X2
The financial arm is offering—initially in California, Washington, and Oregon—what it is calling the "Car & Ride Sharing Lease."
According to the firm, "Increasingly customers are looking for platforms which allow them to earn additional income by renting their vehicles when not in use or driving for ride-sharing providers."
So this lease is meant to facilitate that by providing the leases "to use their leased vehicle to share with peers and drive for ride-sharing providers."
Premium class products like BMWs are generally leased rather than outright purchased, which in itself tends to make the ability to get into one of these vehicles somewhat easier.
Clearly, BMW is seeing that there can be an additional advantage for it by making it easier for its customers to be able to amortize their monthly payment via renting their vehicles out or by using their vehicles by driving for Uber or Lyft or some other ride-hailing service.
Of course, if this all plays out—if there is more ride sharing and ride-hailing—then presumably there is the likelihood that the number of vehicles that BMW (and its competitors) put on the market any given year will decrease (i.e., if you're driving someone else's car when they're not, or contacting Lyft when you don't have ready access to that vehicle, then odds are you're not going to need to have your own car).
Points to BMW for getting ahead of the curve. But we wonder whether the manufacturing and sales portions of the company are considering the implications.
Related Topics
RELATED CONTENT
Delegates to the United Auto Workers union's annual convention in Detroit have overwhelmingly approved a 31% raise for their salaried international leaders.

Ram Truck chief exterior designer Joe Dehner talks about how they've developed the all-new pickup. "We've been building trucks for over 100 years," he says. "Best I could come up with is that this is our 15th-generation truck."  

Ford has made an accomplishment that will never be bested, never even be tied.