Magna, Polestar and More
Magna is an automotive supplier. But it is a Tier One supplier unlike many others.
#Intel #HP #Jaguar
Magna is an automotive supplier. But it is a Tier One supplier unlike many others.
Consider only its Magna Steyr operation. It actually builds vehicles—entire vehicles—in that facility. Vehicles including the BMW 5 Series, the Mercedes G Class and the Jaguar E-PACE. The Jaguar I-PACE is slated to start production there in early 2018. There is so much volume that they're starting the construction of a $100-million paint shop (in Maribor/Hoče, Slovenia) to accommodate the output: by next year the number will be some 200,000 vehicles per year.
Then there are the other things that Magna is involved with. Like working with BMW Group, Intel and Mobileye on the development of a self-driving vehicle platform that is planned to be completed by 2021, a platform that will be sufficiently flexible for use by a number of automakers.
And it has developed what it calls "MAX4," an autonomous driving sensing and compute platform that combines cameras, radar, LiDAR, and ultrasonic sensors with a controller. This system is said to be capable of providing SAE Level 4 autonomous driving capabilities.
Magna's automotive-grade cameras
What's more, it has recently announced a joint-venture with Huayu Automotive Systems of China for the production of an electric-drive powertrain system for a German automaker. (Magna has non-trivial experience in the electric vehicle space, as it worked with Ford in developing what became the Focus Electric; it presently provides Volvo with an electrified rear axle drive system that is used for the V60 and S60 plug-in hybrid models.)
Swamy Kotagiri is Magna's chief technology officer. And he joins us on this edition of "Autoline After Hours," where he talks with Autoline's John McElroy, Bloomberg's Detroit bureau chief David Welch, and me.
Kotagiri discusses a variety of topics, not only including the technologies that Magna is developing, but also how they decide which technologies they're going to pursue. Realize that this is a company that makes high-pressure vacuum die castings and hot-stamped steel door rings, seating systems and headlamps—just to name a few of its on-going undertakings—in addition to the tech previously mentioned. So obviously there is a lot of opportunities that face Kotagiri and his team each and every day.
Then McElroy, Welch and I discuss a variety of subjects, including the Polestar 1, a 600-hp hybrid that is set to launch in mid-2019 from Polestar, what had been Volvo Car Group's performance brand, which is now becoming a high-performance electrified vehicle company that is being backed by Volvo and Geely (which happens to own Volvo). The Polestar approach is interesting for a variety of reasons. For one, the cars will be ordered and configured on-line (although there will be physical Polestar Spaces so people can physically encounter the vehicles).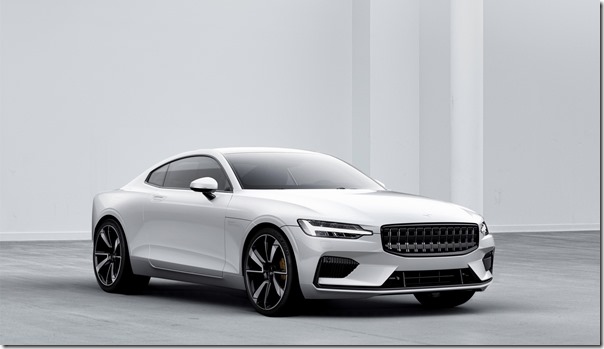 Polestar 1 hybrid
The plan is to provide a "subscription" rather than a lease or purchase.
Also, we talk about Daimler's plan to create a holding company for three individual units—Mercedes-Benz Cars & Vans, Daimler Trucks & Buses, and its financial operations. Welch explains this is a way to unleash some potential capital for the company.
And we discuss a whole lot more, which you can see right here.
Related Topics
RELATED CONTENT
While you are probably familiar with origami, the classic art of paper folding that results in things like birds that flap their wings when you pull the tail, or plot devices in one of the Blade Runner films.

Sandy Munro and his team of engineers and costing analysts at Munro & Associates were contacted by UBS Research—an arm of the giant banking and investment firm—and asked whether it was possible to do a teardown and cost assessment of the Chevrolet Bolt EV.

Here's a look at how Johnson Controls creates leading interiors as well as cool ideas for clever products.