Mustang Changes for 2018
On Tuesday Ford unveiled—using the social media channels of actor Dwayne Johnson (this has got to unnerve some of the auto buff book editors)—the 2018 Mustang, which has undergone some modifications: under the hood (the 3.7-liter V6 is giving way to a 2.3-liter EcoBoost four, and a 10-speed automatic is available), on the dash (a 12-inch, all-digital LCD screen is available for the dashboard), at the tires (12 wheel choices), on the chassis (MagneRide damper technology is being offered with the Mustang Performance Package), and on the exterior (three new paint colors). And while on the subject of the exterior, there are some notable changes—a lower, remodeled hood, repositioned hood vents, new upper and lower front grilles, LED front lights, revised LED taillamps, new rear bumper and fascia.
#oem #Ford
On Tuesday Ford unveiled—using the social media channels of actor Dwayne Johnson (this has got to unnerve some of the auto buff book editors)—the 2018 Mustang, which has undergone some modifications: under the hood (the 3.7-liter V6 is giving way to a 2.3-liter EcoBoost four, and a 10-speed automatic is available), on the dash (a 12-inch, all-digital LCD screen is available for the dashboard), at the tires (12 wheel choices), on the chassis (MagneRide damper technology is being offered with the Mustang Performance Package), and on the exterior (three new paint colors).
And while on the subject of the exterior, there are some notable changes—a lower, remodeled hood, repositioned hood vents, new upper and lower front grilles, LED front lights, revised LED taillamps, new rear bumper and fascia.
So we're taking this opportunity to share some sketches of the new version of what Ford claims is "the world's best-selling sports coupe":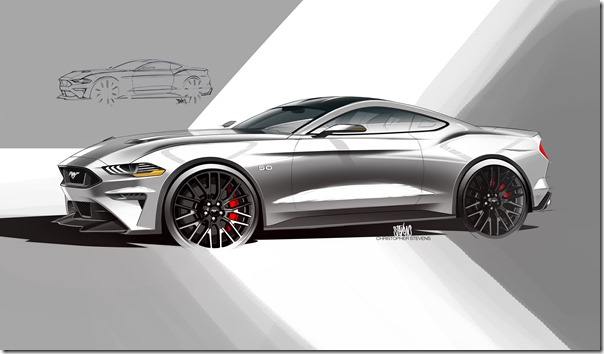 Related Topics
RELATED CONTENT
The high-end automotive CAD/CAM systems do a whole lot more than their name implies. In addition to design and manufacturing, they have the ability to support analysis, product data management, and more.

Automotive manufacturers are meeting CAFE fuel-efficiency standards through lightweighting, which requires simulation software for design engineers.

Hyundai enters the American market with a new parallel hybrid system that uses lithium-polymer batteries and the same six-speed automatic found in non-hybrid versions of the 2011 Sonata.