NACTOY: The 2017 Nominees
The initial list of the vehicles that have qualified for the 2017 North American Car, Truck and Utility Vehicle of the Year (NACTOY) awards have been released today, so because these awards are significant to the industry (and only partially because I am one of the 60 judges, representatives of auto journalism across the continent), here is the list of vehicles that will be considered.
Know that in order to qualify the vehicles must be fundamentally new, as in underpinnings and technology, not just having a new front fascia and Apple CarPlay and Android Auto compatibility or something of the like.
The semifinalists will be announced in late September, the finalists at the LA Auto Show in December (three for each category). . .and the winners at the 2018 North American International Auto Show in Detroit in January.
So without further ado, here are the vehicles:
Car
Alfa Romeo Giulia
Audi A5 Sportback
BMW 5-series
Honda Clarity
Honda Accord
Hyundai Ioniq
Kia Stinger
Lexus LC500
Mini Clubman
Porsche Panamera
Subaru Impreza
Tesla Model 3
Toyota Camry
Toyota Camry
Utility
Audi Q5/S5
Alfa Romeo Stelvio
BMW X3
Buick Enclave
Chevrolet Equinox
Chevrolet Traverse
GMC Terrain
Honda Odyssey
Jeep Compass
Kia Niro
Land Rover Discovery
Land Rover Range Rover Velar
Mazda CX-5
Nissan Rogue Sport
Subaru Crosstrek
Toyota CH-R
Volkswagen Atlas
Volkswagen Tiguan
Volvo XC60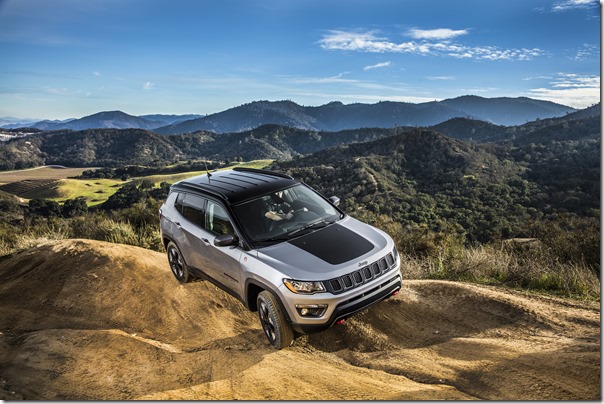 Jeep Compass
Truck
Chevrolet Colorado ZR2
Ford Expedition
Lincoln Navigator
Chevrolet Colorado ZR2
If you consider the list, one thing may become clear: in the car category there are no vehicles from the Traditional Big Three. (FCA does have Alfa as one of its nameplates, but you know what I mean.) While it could be argued that this represents a shift from cars to crossovers and trucks, there will undoubtedly be cars on the 2018 list from one or more of the metro Detroit Three.
For one thing, during the first six months of this year, there were 3,223,549 cars delivered in the U.S., according to Autodata. While that's a couple million below light trucks—which came in at 5,228,585—cars certainly cannot be overlooked.
It is worth noting that the presenting sponsor of the 2017 North American Car, Truck and Utility Vehicle of the Year awards is Bridgestone Americas. The awards have been presented to the industry since 1994.
RELATED CONTENT
The common wisdom seems to be that midsize cars have pretty much had it in the U.S. new car market.

To know that 3,000 cars have been delivered since October 2015 would undoubtedly result in a shrug: in 2017 Toyota delivered 387,081 Camrys, so that 3,000 is less than one percent, and this is in one year, not just over two.

The Buick LaCrosse has been Buick's top-line car since it was introduced in 2004 as a 2005 model sedan.