Porsche Racing to the Future
Porsche is part of VW Group and it is one of the companies that is involved in putting vehicles on the U.S. market with diesel engines in violation of EPA emissions regulations, specifically model year 2013–2016 Porsche Cayenne Diesel 3.0-liter V6 models.
In some ways, it seems, this whole diesel imbroglio has had a silver lining in that sooty cloud as there is an evident emphasis at VW Group companies on alternative powertrains that are, well, comparatively green.
What's more, there is an increased recognition that there are changes afoot in terms of motorsports, which Porsche is certainly a part of, as it is a participant in the FIA World Endurance Championship, which includes the 24 Hours of Le Mans race, which it has won three times. It is currently campaigning the 919 Hybrid.
According to Andreas Haffner, Member of the Executive Board for Human Resources and Social Affairs at Porsche AG, "The sustainable use of renewable energies is one of the greatest challenges of our time."
And in this context he doesn't mean biodiesel, as Porsche is backing the "Sonnenwagen" team from RWTH Aachen University that is participating—as the only German team—in the 30th Bridgestone Solar Challenge, which is taking place over 1,878 miles of road this October 8 to 15 in the Australian Outback.
Yes, solar power.
Haffner: "The development of an emission-free solar-powered racing car by students at RWTH Aachen alone represents a bold undertaking. Supporting this research approach is very important to us."
While it is not surprising that a company like Porsche would support the efforts of automotive engineering students, this is not an entirely altruistic undertaking on behalf of the company. Haffner says, "We want to play an active role in shaping the future of the sports car. To do so, we need exactly this kind of young people, full of courage and pioneering spirit, and who are willing to break the mold. These are values that are also firmly rooted in our company culture."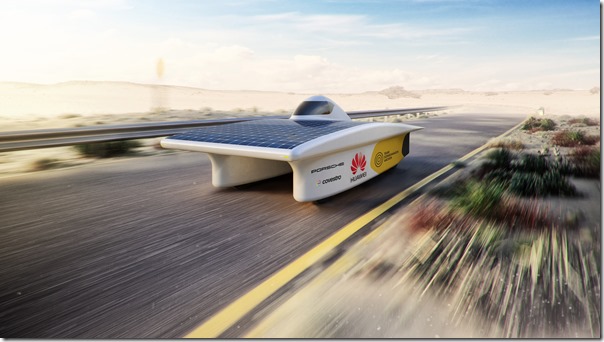 In other words, if motor sports and sports cars are going to have a viable future, they're going to be powered by something other than internal combustion engines (and remember when Audi, another VW Group company, was racking up LMP win after win at Le Mans with its TDI-powered cars?).
This weekend the Formula E series makes its way to Brooklyn, New York, which is certainly an atypical place to hold a race. (And yes, that's "E" as in "electric" and the "formula" part goes to the point that these vehicles are Formula One-style in configuration.)
Porsche took the students to the company's motor sports center in Flacht, Germany, where they were briefed by personnel there on what they are doing, and will go to the company's development center in Weissach next month.
Said Andreas Seidl, team principle, Porsche LMP Team, "Just like us, the Aachen students will be pushed to the absolute limit when developing their racing car.
"The key issues surrounding lightweight construction, cooling, efficiency, powerful electric drive, and aerodynamics correspond with the requirements of our Le Mans victor, the 919 Hybrid."
Let's hope that the team doesn't get the classic Donahue/Penske "unfair advantage."
Related Topics
RELATED CONTENT
The 2016 model is all-new. As in platform and everything else. And the platform—which will have global use—was developed in North America.

Lithium-ion batteries have become the technology of choice for EVs, and falling costs and rising energy levels could keep them on top for nearly two decades.

Although the term "continuous improvement" is generally associated with another company, Honda is certainly pursuing that approach, as is evidenced by the Accord, which is now in its ninth generation.