Portal Axles and 130 mph
The G 500 4 x 42 was a special model developed by Mercedes that had a run from December 2015 to October 2017.
#oem #BRABUS #supplier
The G 500 4 x 42 was a special model developed by Mercedes that had a run from December 2015 to October 2017. One of the elements developed for this € 231,693 (starting price) off-road beast (as in a 422-hp, 4.0-liter V8 under its hood) was a set of portal axles.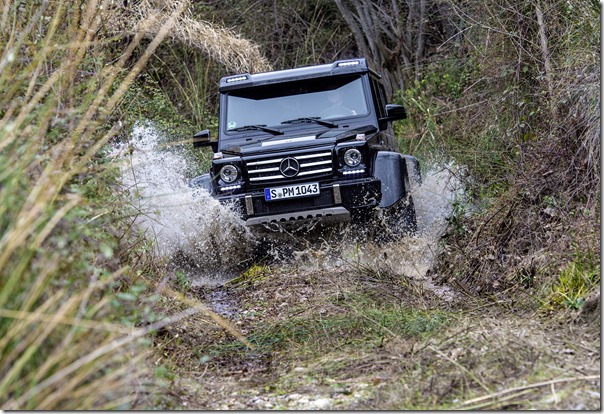 G 500 4 x 42
Portal axles, if you're not familiar with them, are not in line with the center of the wheels; there is a geared transmission that connects the axle to the wheel so that the axle tube is elevated above the centerline of the wheels. This provides more ground clearance.
While the G 500 4 x 42 is out of production, there is another vehicle that's somewhat available—as in 10 were being built and it very well may be that by the time you read this, the whole run of the € 209,000 (starting) vehicles are all spoken for—that makes use of the portal axles.
It's the BRABUS 700 4 x 42, which is based on the Mercedes G 63. To make the vehicle off-road capable—as in 60 cm (a.k.a., 23.6 inches) of ground clearance—the BRABUS engineers used the axles, as well as a BRABUS suspension.
This suspension uses height-adjustable high-strength aluminum struts; there is a touch control panel in the cabin that allows the selection of the height of the front and rear axles. The dampers have what is described as an "expansion reservoir," which provides 15 percent more oil volume than is ordinarily the case, so this vehicle is even more off-road capable.
However. . . .
Despite the Pirelli Scorpion ATR off-road tires. Despite the skid plates that protect the engine, driveline and fuel tank. Despite the portal axles.
Is someone really going to take this off road?
BRABUS 700 4 x 42
Know that under the hood there is a 5.5-liter twin-turbo V8 that the engineers in Bottrop have given a "performance upgrade" so that it produces 700 hp @ 5,300 rpm and generates 708 lb-ft of torque @ 2,000 to 4,500 rpm. They've done such things as replace the standard turbos with their own and installed a larger compressor unit. They've installed high-performance metal catalysts with 75-mm wide downpipes. They've put proprietary "Gold Heat Reflection" sheathing on the intake and boost pipes. They've created their own engine mapping calibrations.
The vehicle can go from 0 to 62 mph in five seconds. The top speed is electronically limited to 130 mph. Limited because of the off-road tires.
Anyone who has spent any time crawling rocks knows that single digit speeds are the norm. Which makes the whole "off-road" thing somewhat absurd.
Related Topics
RELATED CONTENT
Ram Truck chief exterior designer Joe Dehner talks about how they've developed the all-new pickup. "We've been building trucks for over 100 years," he says. "Best I could come up with is that this is our 15th-generation truck."  

Honda is an engine company.

Chrysler pioneered the modern-day minivan more than 30 years ago and has been refining and improving that type of vehicle ever since.