Racing to Additive: Race Teams Look to 3D Printing
A number of race teams are finding that 3D printing and rapid prototyping is a means to an end—and that end is winning races.
#Carbon #HP #racing
Rapid prototyping or 3D printing, while getting faster and more capable, as well as having more materials that are suitable for the wide array of processes, is rapid in the context of prototyping. One area of the automotive space where volumes are low, component configurations can be tricky and cost-per-part not unimportant but not the end-all and be-all is professional motor sports.
So the recent flurry of announcements from equipment manufacturers and race teams is perhaps not wholly unexpected.
3D Systems announced that Stewart-Haas Racing is using the company's Geomagic Wrap reverse engineering software and its ProX 800 printer to produce aero components for development and wind tunnel testing. The software is used to process scan data into STL files used for shape deviation comparison. Then 3D Sprint software is used to develop the programs for the ProX 800 machine, which prints parts with an Accura 25 material, which has properties that are similar to those of polypropylene. The ProX 800 machine has the ability to produce parts as large as 25.6 x 29.5 x 21.65 in.
Reneau Van Landingham, aerodynamic design group manager, Stewart Haas Racing, said, "Our most valuable asset is time. The faster we can develop concepts that improve the performance of our cars on the track, the better."
Another company working with 3D Systems gear is Rodin Cars, a New Zealand-based manufacturer of open-wheel race cars. According to David Dicker, founder of the company, "The extreme conditions of track racing leave no room for error. Many components that we manufacture in-house have geometrical complexities that only 3D printing can provide."
Exhaust collector 3D printed in titanium on 3D Systems' ProX DMP 320 then PVD coated in titanium nitride.
(Image: Rodin Cars)
The builder has a variety of equipment, including the sPro 230 (maximum build envelope capacity: 22 x 22 x 30 in.) for selective laser sintering (SLS); the ProX 800 for producing tooling for carbon fiber forms with Accura Bluestone, a nanocomposite material; and the ProX DMP 320 using 3DXpert software for producing titanium parts including exhaust collectors, mufflers, uprights, and hubs.
Then there's Arrow Schmidt Peterson Motorsports (SPM), which also runs in open-wheel series. As its president Jon Flack put it, "We're not just aiming to win IndyCar championships and Indianapolis 500s, but sustaining excellence, from design all the way to final part production."
Arrow SPM is working with equipment from Stratasys. For example, there is the Fortus 450 mc that works with FDM (fused deposition modeling) Nylon 12 Carbon Fiber and ASA materials to produce functional prototypes, end-parts and tooling. They're also running an F370 printer, which provides a build size of 14 x 10 x 14 in. and can handle an array of materials (PLA, ABS, ASA, TPU 92A, and PC ABS).
Another race team using both the Fortus 450 mc and the F370 is Don Schumacher Racing, which is said to be the "winningest team" in the National Hot Rod Association.
That team is using the equipment for applications including chassis and weldment fixtures, prototype development, final design proof-of-concept parts, and components for the vehicles, which are in the Top Fuel, Funny Car and Factory Stock categories.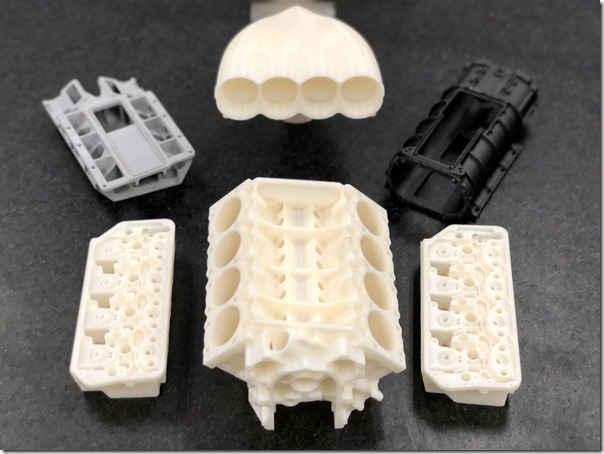 Components produced by Don Schumacher Motorsports with 3D printing.
(Image: Business Wire)
Said Scott Culter, senior manufacturing engineer at Don Schumacher Motorsports, "With Stratasys 3D printing in place, anytime a crew chief has an idea for a project or concept part, we can design it, print it out, and test fit and function rapidly at a low cost—whether it is a prototype or final part."
Not every race team does everything in-house. Also recently was announced was an agreement between the Renault F1 Team and Jabil, a supplier that has a network of global capabilities, including its Additive Manufacturing Network, which deploys equipment from companies including Desktop Metal, EOS, Farsoon, HP, and Ultimaker. Jabil will be providing parts used for the Renault R.S. 19 vehicle.
Explained Antoine Magnan, Head of Partnerships, Renault Sport Racing, "Every single aspect of what we do is geared towards excellence. We look forward to taking advantage of Jabil's growing ecosystem of certified materials, processes and machines to boost parts availability and overall productivity."
RELATED CONTENT
By James Gaffney, Product Engineer, Precision Grinding and Patrick D. Redington, Manager, Precision Grinding Business Unit, Norton Company (Worcester, MA)

Topology optimization cuts part development time and costs, material consumption, and product weight. And it works with additive, subtractive, and all other types of manufacturing processes, too.

Additive manufacturing (AM) is just one manufacturing method that drives advanced mobility forward and also has a history of embracing the digital connectivity demanded by this trend.