Ram 1500 Engages the Tailgate Battle
The 2019 Ram 1500 pickup was named the North American Truck of the Year by the NACTOY jury. One of the reasons that the Ram bested the Chevy Silverado and the GMC Sierra was because of what seems to be an unrelenting attention to detail, both inside and out, both functional and aesthetic.
One of the places where the Ram 1500 had to give it up to the GMC Sierra was in the back of the box, where the Sierra has on offer the "MultiPro Tailgate," which provides six different ways to configure it.
So the Ram team weren't about to let that go unchallenged so now there is the "Multifunction Tailgate."
This is a drop-down (dampened, by the way) tailgate, which is standard. But it has a 60-40 split, with each section individually opening 88 degrees.
So the tailgate can open flat, have the left door open only, the right door open only, or both doors open at once.
It can open with a trailer and hitch in place.
There is an optional retractable center-mounted step option.
Clearly there is something of a war for the back of the truck going on here.
At this stage, GMC wins the name, as "MultiPro" sounds less prosaic than "Multifunction."
And even though Silverado isn't fully engaged, the lined indent that it provides on either end of the rear bumper that serves as a step (which it introduced on the last generation of the truck and continues with today since it is such a clever approach) gets some points for bed access, which is something that both Ram and GMC have more elaborate means to accomplish.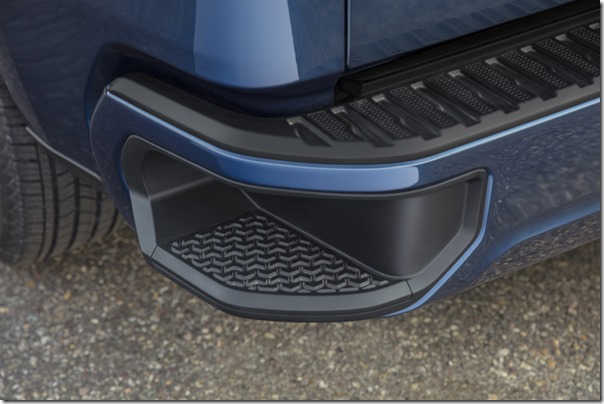 Silverado's simple solution for making it easier to access the bed
One only wonders what Ford will come up with. . . .