Safety for AV Activities
In an automated vehicle, people aren't necessarily going to be sitting in as orderly a manner as in today's vehicles. So what's a safety system supplier to do?
#supplier #ZF
According to a recent study by the Capgemini Research Institute on consumers' feelings about autonomous vehicles (AVs), when asked what they'd be doing if they were in a self-driving car, consumers answered there would be various things that they would do, ranging from reading (52%), sleeping (45%), eating a meal (58%), to doing "heavy exercises" (18%).
If you're company is one that provides integrated safety systems for vehicles today, and you're looking at research that says there will be activities like those going on in the cabin in the not-necessarily-distant future, then it is important to have information regarding who is where in a vehicle doing what (e.g., let's face it, someone doing heavy exercise is probably not in the same position of someone who is taking a nap).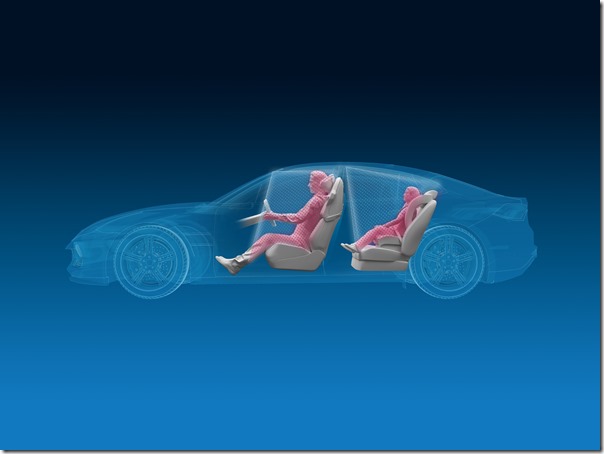 (Image: ZF)
To that end, ZF has announced that it is buying most of (i.e., 90%) of a company that specializes in image-based 3D systems for the recording and analysis of human movement, Simi Reality Motion Systems GmbH. Heretofore the company, which was established in 1992 and has 35 employees, has been supplying its 3D systems to organizations related to sports and medicine. The acquisition by ZF will move it into the auto space, as well.
Explains Norbert Kagerer, head of Integrated Safety at ZF, "One key to the occupant safety of tomorrow is highly efficient systems for occupant recognition."
Realize that in today's vehicles, the design is such that it is fairly well known where the driver is positioned, as well as the passengers, so the deployment of things like airbags is done so as to handle those positions.
But should someone be in the process of reading a book or having dinner, the position may be entirely different than what is the norm.
So, presumably, this is what Simi Reality Motion Systems will help ZF with establishing.
RELATED CONTENT
This is the 3E. A design by the renowned automotive designer Camilo Pardo, the man behind many striking designs, including the '05/'06 production Ford GT.

Elio Motors is something of a brash company.

There have been more than 20 reported attacks against Waymo's self-driving fleet in Chandler, Ariz., since the company began testing the technology on public roads there two years ago.