Satisfying Vehicles
The AutoPacific 2018 Vehicle Satisfaction Awards (VSAs) were announced last week. This is a survey taken of some 58,000 owners of 2017 and 2018 model-year light vehicles. This is a survey that is about owner satisfaction, and there are 40 attributes that are itemized in terms of their individual importance to the vehicle.
This survey is not something that can be tossed off in a matter of minutes, but something that takes time and attention. To say nothing of commitment.
The results are, arguably, rather surprising.
For example, there are three overarching awards, "Most Satisfying Vehicle Overall," "Highest Satisfaction Premium Brand," "Highest Satisfaction Popular Brand."
Then there are 11 categories for Passenger Cars and 13 for Light Trucks. For both cars and light trucks (which include crossovers and SUVs, as well as pickups) there is price point bandwidth, from economy to luxury.
Genesis G90
Surprise number one is that Luxury Car that has the highest level of owner satisfaction is the Genesis G90, the second year the car has taken the category. Some consumers may not even be familiar with Genesis, which is the luxury spinout of Hyundai (analogous to what Lexus is to Toyota or Infiniti to Nissan). Realize that Hyundai didn't officially launch the Genesis brand until November 4, 2015, and when the announcement was made about the launch of Genesis, Woong Chul Yang, who at the time was head of the Hyundai Motor R&D Center and Vice Chairman of Hyundai Motor, said, "The Genesis models will provide technological innovation, excellent driving performance and luxury to customers. Every Genesis model will be created with the needs of our customers in mind, so the resulting car will perfectly meet their needs without any unnecessary burden or excess," something that evidently has been realized, given the back-to-back VSAs in the Luxury Car category.
Then there is that "Highest Satisfaction Premium Brand" award. Again, Genesis. It's not that Mercedes, Audi, Infiniti, and Lexus didn't make the VSAs. They did. But evidently there is something special about that Korean brand.
What's more, in the "Highest Satisfaction Popular Brand" category, Hyundai is part of a three-way tie, with GMC and Ram. It is a car brand, essentially (it has crossovers, but it doesn't have trucks), and three of its cars, the Sonata, Elantra and Accent took VSAs in the Mid-Size Car, Compact Car and Economy Car categories, respectively.
If there was any question about how U.S. consumers would feel about Korean brands (and let's face it, when it comes to smartphones "Samsung" is often said in the same breath as "Apple"), it seems that the AutoPacific survey puts any doubt to rest.
Then there is the "Most Satisfying Vehicle Overall" award. And no, it isn't a Genesis. Nor is it a Hyundai.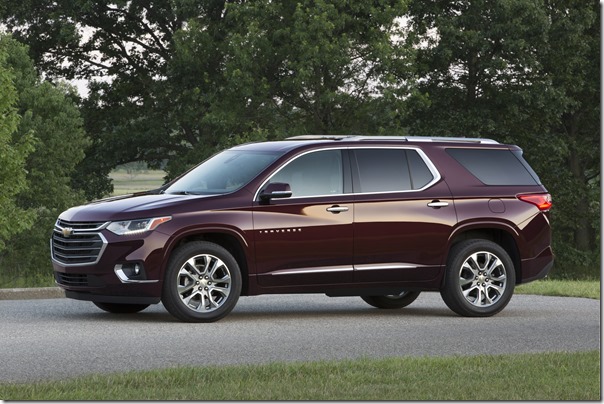 Chevrolet Traverse
The Chevrolet Traverse takes that award.
Last week, quite coincidentally, I had the opportunity to spend a few days driving a Traverse RS, a front-drive vehicle with three rows of seats, with a third row that is actually useful, not some sort of penalty box. The vehicle has a four-cylinder engine, which might cause you to think that it is going to strain itself trying to move the large crossover, but this 257-hp 2.0-liter turbocharged mill mated to a nine-speed automatic does the job very well. And while the RS trim is mid-range, the amenities from the leather seats to the 10-speaker Bose audio system were more than satisfactory.
Or maybe it is things like that which make the Traverse satisfying to customers, which is reflected in their giving it the nod—apparently with some distance ahead of those selecting the second-place vehicle—to the Traverse.
A few other observations about the 2018 winners. Nissan did well, with the Maxima, LEAF, 370Z, Murano, and the Titan. (Yes, the Titan pickup truck took the light-duty pickup VSA for the second year in a row. . .and last year there were just 52,924 of them sold in the U.S., so perhaps the biggest number of sales doesn't always equate to the best of anything.) And as mentioned, Infiniti is born of Nissan, and Infiniti took two awards, for its QX80 ("Luxury SUV") and QX60 ("Luxury Crossover SUV").
FCA got some nods, with the Dodge Charger taking "Large Car," the Dodge Challenger getting the VSA for "Sporty Car" for the second year running, and the Jeep Grand Cherokee, which tied with the Toyota 4Runner in the "Mid-Size SUV" category.
Speaking of Toyota, it was also awarded for the Sequoia ("Large SUV"), C-HR ("Compact Crossover SUV"), and Sienna, which tied with the Honda Odyssey in the "Minivan" category. The Lexus IS received the VSA for the "Aspirational Luxury Car" (which is certainly a curious category).
Honda also received awards in the "Mid-Size Pickup" category for the Ridgeline (second year running) and the CR-V for "Mid-Size Crossover SUV."
And as we've come this far, know that the Audi A3 is "Premium Compact Car," the GMC Sierra HD the "Heavy Duty Pickup," the Mercedes GLC "Premium Luxury Crossover SUV," and the aforementioned Traverse also the "Large Crossover SUV" pick.
So to provide a list of the brand winners there is Genesis, Lexus, Nissan, Dodge, Hyundai, Audi, GMC, Honda, Infiniti, Toyota, Jeep, Mercedes, and Chevy.
There are a whole lot of nameplates that aren't on that list. That should give some OEMs pause. As should such things as the fact that Genesis is a still-young brand and it is proving most satisfying and that many of the brands are awarded in multiple categories.
People who like something tend to tell other people about it. And their word of mouth endorsement is a heck of a lot more powerful than even the most cleverly created advertisement. (Think about it: Chances are exceedingly high that Genesis has become so well regarded not because of its marketing but because of what it delivers to its customers.) And people who don't like something tell even more people, which can be quite compelling for others—and not in a positive way for the brand. Then there is the group of people for whom whatever just is, and it isn't part of the conversation at all, which nowadays is the route to essential nonexistence.