SEAT, IBM & Watson
One more thing about SEAT after yesterday's announcement at the Mobile World Congress about its Minimó micromobility vehicle: Today it and IBM announced that the companies are developing the "Mobility Advisor," a mobile app that will run on 4G/5G networks and utilize IBM Watson AI technology.
#supplier #IBM #oem
One more thing about SEAT after yesterday's announcement at the Mobile World Congress about its Minimó micromobility vehicle: Today it and IBM announced that the companies are developing the "Mobility Advisor," a mobile app that will run on 4G/5G networks and utilize IBM Watson AI technology.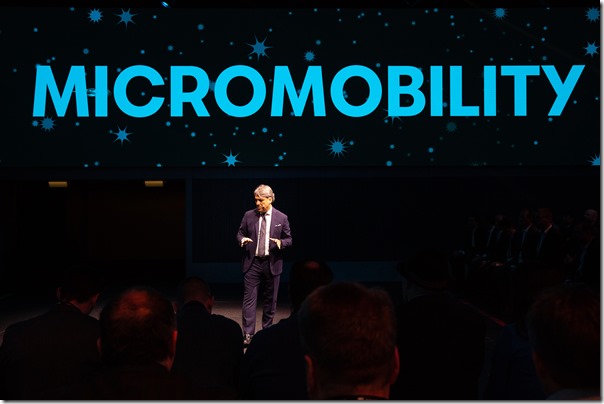 SEAT president Luca de Meo introducing the Minimó in Barcelona
The system is connected to the IBM Cloud, so it has up-to-date information about what's going on in the environment, and it uses IBM Watson Machine Learning, so it learns the user's preferences.
Then based on where the user may be going, it not only determines the most efficient route predicated on conditions (weather, traffic jams), but it even recommends whether the individual might want to use more than one form of transportation: perhaps drive to a particular point and then make the rest of the journey with a SEAT scooter (seriously). Or even on foot.
When driving isn't a good idea, Watson might recommend a scooter
Juan Ramon Gutierrez Villar, Industry Solutions Leader, IBM Global Markets, said, "With the roll-out of 5G networks in cities in the coming years, the possibilities for transforming the driver experience are limitless."
RELATED CONTENT
"For the first time ever, we're closing the loop on human behavior understanding through vision AI," says Modar Alaoui, founder and CEO of Eyeris, a company that has developed technology for face analytics and emotion recognition, which has now extended that to body tracking and action and activity recognition.

When you think of developing maps for automated vehicles, you might think along the lines of something that you see on your phone, on a screen centered in your IP or something from Garmin.

AI will usher in new jobs, according to a book from the consulting firm Accenture. It's a quick and worthwhile read.