Talking Jeep Design
For more than 20 years, Mark Allen has been working at what is now FCA (it wasn't, of course, when he started). Designing trucks.
#Jeep
For more than 20 years, Mark Allen has been working at what is now FCA (it wasn't, of course, when he started). Designing trucks. Designing Jeeps. Which are arguably the two most important vehicle types that are presently on offer in the FCA portfolio in the U.S. market. And Allen is now head of Jeep Design, which makes him in many ways the man who is responsible for both protecting the heritage of what can be called without the slightest bit of exaggeration a venerable brand, yet, at the same time, helping advance the relevance of Jeep going forward in time.
One of the things that is happening with the Jeep brand is that while it might be associated in the minds of many of its partisans with Toledo, Ohio, it is become truly a global brand, with its vehicles being produced literally around the world.
Yet as Mark Allen points out on this edition of "Autoline After Hours," all of the Jeeps—from the Renegade to the Grand Cherokee—are designed in Auburn Hills, Michigan.
Made for Moab, 2016
Allen explains to Autoline's John McElroy, Eric Lawrence of the Detroit Free Press and me that one of the key things that he works on is to make sure that Jeep designers "understand the Jeep culture." One way that he does that is by taking them to the annual Jeep Easter Safari in Moab, Utah, where working concept vehicles—yes, Allen explains, these are literally one-offs that are built to express what Jeeps "could be" (and cues from these vehicles are often incorporated into production vehicles), and yet because they are out in the canyons with the Jeep faithful, they must be able to crawl the slippery rocks with personally owned Wranglers and Cherokees and the rest—are exhibited in actual conditions. (Allen notes that it helps make the new Jeep designers why things like approach and departure angles are so important, something that really doesn't come to mind when thinking about designing a sedan.)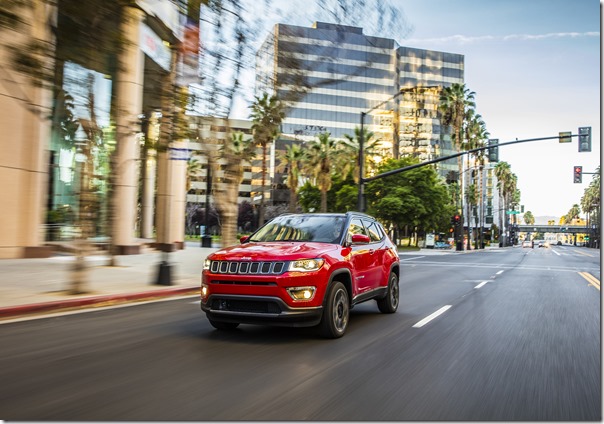 It can drive here. . .
. . .and here.
The latest vehicle to come out of the Jeep studio is the all-new Jeep Compass. Allen brought a Trailhawk to the studio, which gave him the opportunity to explain the design features of the Compass.
If you have any interest in auto design in general or Jeeps in particular, this is a show that you can't afford to miss:
Related Topics
RELATED CONTENT
The high-end automotive CAD/CAM systems do a whole lot more than their name implies. In addition to design and manufacturing, they have the ability to support analysis, product data management, and more.

A Vietnamese start-up auto company is doing what it name implies: VinFast Manufacturing and Trading Company Limited is going exceedingly fast in vehicle development.

Topology optimization cuts part development time and costs, material consumption, and product weight. And it works with additive, subtractive, and all other types of manufacturing processes, too.