The 2017 MINI Cooper S Clubman ALL4
The 2017 MINI Cooper S Clubman ALL4 in its standard form is not a car for everyone.
#MINI #oem
The 2017 MINI Cooper S Clubman ALL4 in its standard form is not a car for everyone.
In fact, it is a car for very few.
According to a story that ran in the Los Angeles Times last fall, fewer than 3 percent of the cars sold in the U.S. are equipped with manual transmissions.
And the MINI in question here has one. So you've got to figure that this isn't a car that you're likely to see rolling around in any great numbers no matter how enjoyable it is to drive. The six-speed manual is standard. An eight-speed automatic is available.
One could imagine that it would it a hit on college campuses. That's because it is sizable without being large (length: 168.3 inches; width: 70.9 inches; height: 56.7 inches; wheelbase: 105.1 inches). And because it is a five-door with the fifth door around the back being vertically split so that it opens partially (50 percent) or all the way, offering excellent access (particularly as there isn't a high lift-over height, which is something that some people probably fail to take into account when their opting for a crossover).
Another reason why this would be the sort of car that would certainly appeal to a younger demographic (although at this point I should say something about how "youth is a state of mind, not a number" because chances are, there are plenty of people for whom the MINI Cooper S Clubman ALL4 is an ideal car and they haven't had to sit in a lecture hall for a long, long time) is that the instrument panel is clearly designed by someone who really appreciates things like dials and switches and lighting and displays in a functional but fun way.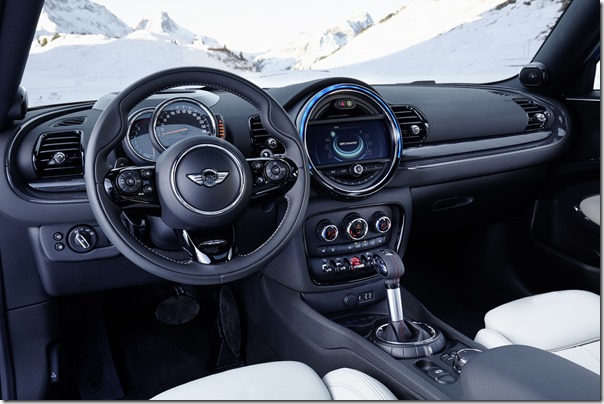 And that "ALL4" aspect is certainly ideal for those who go to Michigan or Wisconsin or some other place where there are winters. Essentially, there is a power take-off bevel gear on the front axle diff, a dual-section prop shaft and a rear axle differential with an electro-hydraulically controlled hang-on clutch. All of which is to say that the torque goes from front to rear as needed without any driver intervention. (Having to push a button or turn a dial has always struck me as somewhat counterintuitive: when you suddenly have your hands full because the road has become slippery, don't you want to keep one hand on the wheel and the other on the gear shift lever? Which is what you can do in this MINI.)
One reason why the vehicle may not be absolutely ideal for the college student: student debt. It seems that there is something on the order of $1.3-trillion in student debt in the U.S. right now. And the Clubman ALL4 is not inexpensive, starting at $26,650.
That said, it is still an investment that can be somewhat exhilarating. Especially if you know how to drive a stick.
Related Topics
RELATED CONTENT
According to Frank Jourdan, president, Chassis & Safety Div., Continental Contitech AG (continental-corporation.com), the high-resolution 3D flash LIDAR (HFL) technology that the company is developing for deployment in automated driving systems in the 2020+ timeframe provides an array of benefits.

Here's a look at how Johnson Controls creates leading interiors as well as cool ideas for clever products.

The mid-size 2005 Pathfinder, Nissan's largest design and development program to date, involved three technical centers, and took 36 months and countless trans-Pacific trips to complete. Though it borrows major components from the full-size Titan pickup and Armada SUV, it's not just a downsized clone.