The One-Percent F-450?
Although designers sometimes say rather wacky things in describing what they've executed, a comment made by Aileen Barraza, Ford design manager, regarding the new Super Duty Limited, which was revealed yesterday at the State Fair of Texas, has to rank with some of the most, well, unusual.
Realize that we're talking about a pickup truck. A backup truck that is available in a setup that is capable of towing more than 30,000 pounds. (Which Ford bizarrely describes as a mass that is "about the weight of a stealthy Air Force F-35 fighter plane," as though that's the sort of thing that someone thinks about when going to their local Dallas dealer for a new F-450 that, in Limited trim, starts at $87,100, and can be tricked out to the tune of $94,455, "Hmm. . .I've got that Stealth fighter on the back 40; I think I want to move it to the 40 behind that.")
Aileen Barraza: "Imagine opening the door to your humidor and sinking into your favorite leather lounge chair—that's the sensation new Super Duty Limited inspires."
While a humidor for many people is simply a box (as in "cigar box") within which to store their Cubans, for some people, presumably those with surplus military equipment, it is an entire room. Perhaps just off the wine cellar.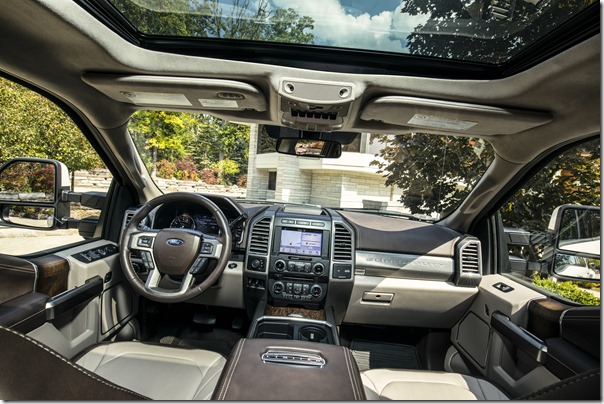 Admittedly, they've gone full "Lifestyles of the Rich and Famous" on the Super Duty Limited, offering such things as "Custom Camelback two-tone leather seats, premium stitched leather-wrapped steering wheel, armrests and instrument panel, Miko suede headliner, hand-finished dark ash wood trim."
But it does have a 6.7-liter Power Stroke diesel V8 under its hood, so it is ready to work.
Still: when luxuriating with a good port and a Cohiba Behike, do you really want to work?
That would be someone with a Lone Star and a Lucky in an F-250 XL that starts at $32,890.
Related Topics
RELATED CONTENT
Lithium-ion batteries have become the technology of choice for EVs, and falling costs and rising energy levels could keep them on top for nearly two decades.

Chrysler pioneered the modern-day minivan more than 30 years ago and has been refining and improving that type of vehicle ever since.

The thing about the Wrangler Willys Wheeler: It is a toy for a grown-up boy.