The SOLO EV Is Really Being Built
From the point of view of structural engineering and assembly, electric vehicles are a whole lot simpler than those with internal combustion engines, which probably goes a long way to explain why there are so many startups showing EVs.
Showing is the operative term here, because while they might have a vehicle or a few, that's about as far as it goes.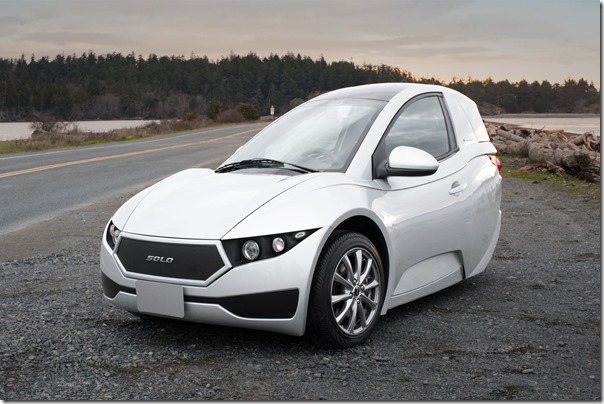 Which makes Vancouver-headquartered Electra Meccanica, all the more interesting, beyond the fact that its SOLO EV (presumably named that because it can accommodate one person), which has three wheels (two in the front), not only has 23,030 pre-orders (a $250 refundable deposit is required), but it is having vehicles built in a factory operated by Zongshen Industrial Group in China, which is shown in a video that can be seen here.
According to Electra Meccanica the company has produced 40 vehicles, for customers, for potential customers, and for things like crash testing. These vehicles were hand-built in the company's facility in Vancouver.
It says that there will be 48 additional SOLOs coming from China in the first quarter of 2019. So why there may be production, it isn't exactly mass production.
Electra Meccanica actually has more pre-orders—this requiring a $1,000 refundable deposit—for its Tofino, which is a two-seat roadster. There are 41,124 pre-orders for that car.
While the SOLO has a "target" MSRP of $15,500, the target for the Tofino is $50,000. (It, incidentally, has four wheels and has a more conventional design.) It has an "estimated" delivery" in 2019.
The SOLO, which has a 17.3-kWh lithium-ion battery that powers an AC synchronous motor, has an estimated range of 100 miles and a top speed of 82 mph.
The Tofino, which like the SOLO has a composite chassis, has an estimated range of up to 250 miles and a top speed of 125 mph.
Henry Reisner, Electra Meccanica COO, said, "I am very pleased with our team's progress to date. Having driven the 2019 SOLO myself, I'm convinced we have a winning car on our hands. Now we get to the business of final calibration, initiation of production and delivering them in significant numbers in 2019 and beyond."
RELATED CONTENT
According to Kunihiro Hoshi, chief engineer for the GX 470: "Three of my top goals were to create a body-on-frame vehicle with sweeping off-road performance and unibody-like on-road capability, and, of course, it had to meet the Lexus quality standard." He met his goals. But why would anyone want to bang this vehicle around on rocks?

Although the term "continuous improvement" is generally associated with another company, Honda is certainly pursuing that approach, as is evidenced by the Accord, which is now in its ninth generation.

Great material savings can be achieved when high temperature-resistant bags are used for reverse masking in paint shops for getting two-tone paint jobs done. Here's how it is done.