Tofino: Another EV Under Development

#Recaro #ElectraMeccanica #engineer
A car company based in Vancouver, Canada? Given the comparative simplicity of an electric powertrain compared to an internal combustion engine setup, it seems as though it can happen almost anywhere.
The company in question here is Electra Meccanica Vehicles Corp., and yes, it is based in Vancouver.
This week it has unveiled the chassis for its forthcoming Tofino electric vehicle, a two-seat roadster that is claimed to have a top speed of 125 mph, a range of 250 miles (it uses a lithium-ion battery pack) and an MSRP of $50,000.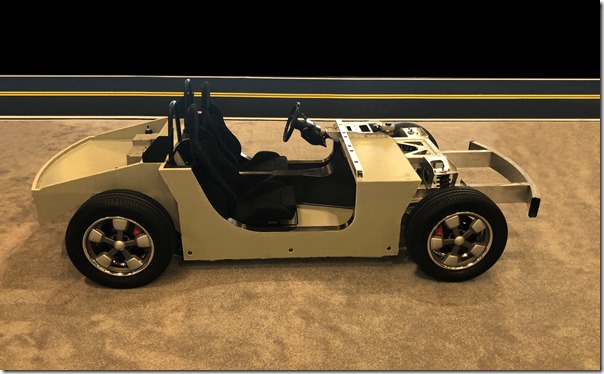 The chassis is fabricated with a fiberglass reinforced plastic and aluminum; it weighs 175 pounds. There are front and rear aluminum subframes and an aluminum cowl brace.
The motor is from UQM.
The vehicle is 153-inches long, 56-inches wide, 49-inches high to the top of the rollbar, and has a 92-inch wheelbase.
Seats will be supplied by Recaro, brakes from Wilwood (12.88-inch diameter disc, with six pistons in the front and four in the rear), and 17-inch alloy wheels from Boyd Coddington Wheels.
Deliveries are "estimated" to begin in 2019. The company is taking fully refundable $1,000 deposits for the Tofino.
Related Topics
RELATED CONTENT
Chinese electric-car startup Nio Inc. is forming a manufacturing joint venture with Beijing E-Town International Investment and Development Co., which is investing 10 billion yuan ($1.5 billion) in the business.

The engineers at Munro & Associates have taken a perfectly sound BMW i3 and taken it apart. Completely apart. And they are impressed with what they've discovered about how the EV is engineered.

Hyundai enters the American market with a new parallel hybrid system that uses lithium-polymer batteries and the same six-speed automatic found in non-hybrid versions of the 2011 Sonata.