Type 49: The Classic Lotus F1
If you're a Formula 1 racing enthusiast from the time when there were drivers like Jim Clark, Graham Hill, Mario Andretti, and Emerson Fittipaldi, and you happen to be in Birmingham, England, between January 12 and 15, then you really need to go to Autosport International at the Birmingham NEC because all of the existing Lotus type 49—all seven of them—will be brought together and put on display.
#Ford #oem #racing
If you're a Formula 1 racing enthusiast from the time when there were drivers like Jim Clark, Graham Hill, Mario Andretti, and Emerson Fittipaldi, and you happen to be in Birmingham, England, between January 12 and 15, then you really need to go to Autosport International at the Birmingham NEC because all of the existing Lotus type 49—all seven of them—will be brought together and put on display.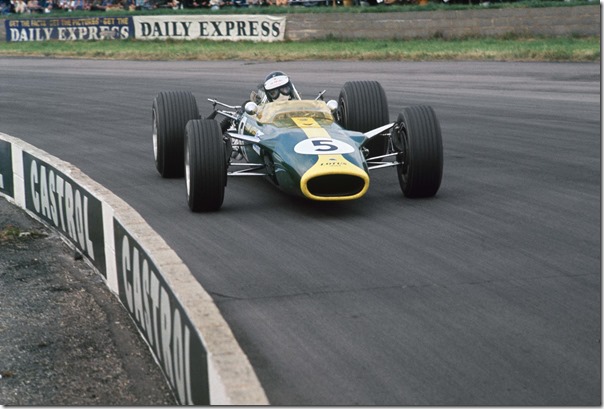 Jim Clark at the British Grand Prix, 1967
2017 marks the 50th anniversary of the vehicle.
The type 49 was designed by Colin Chapman and Maurice Philippe. They designed the car to accommodate the Ford Cosworth DFV (double four valve) engine.
Notably, the front of the engine bolted to the monocoque, and the suspension and gearbox were attached to the rear of the powerplant.
While it was probably something of a roll of the dice to take this approach, it turned out that compared to the Lotus of 1966, there was a 7.7 percent increase in vehicle speed, a year-on-year increase that has yet to be matched.
This was a revolution in F1 car design and engineering because since then, most all Formula 1 cars used this approach.
Graham Hill at the British Grand Prix, 1968. Were those spoilers high enough?
Related Topics
RELATED CONTENT
The Mazda CX-5 first appeared on the scene in 2012, and for 2017, the vehicle has undergone some major transformations, to enhance what was already a notable small crossover.

A young(ish) guy that I've known for a number of years, a man who spent the better part of his career writing for auto buff books and who is a car racer on the side, mentioned to me that his wife has a used Lexus ES Hybrid.

Although the term "continuous improvement" is generally associated with another company, Honda is certainly pursuing that approach, as is evidenced by the Accord, which is now in its ninth generation.