Volkswagen is the Top Auto Brand in China
In the Chinese market, 2015 Volkswagen sales out performed Toyota and Hyundai combined.
#Hyundai #Toyota #MercedesBenz
Although Volkswagen's woes are well known, it is interesting to note that in the Chinese market in 2015, it was the top brand in the country.
Really the top brand.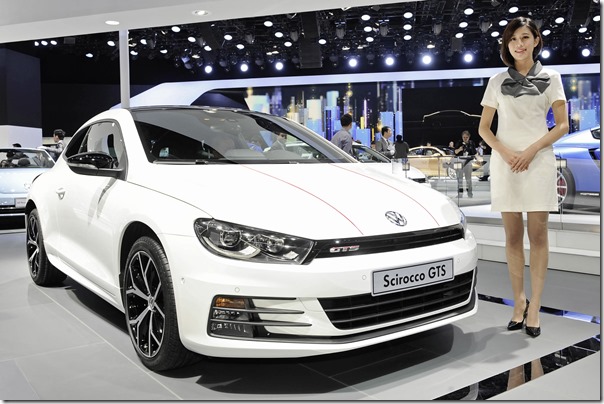 AutoChina Shanghai 2015
According to data from LMC Automotive, the Volkswagen brand was #1 in the passenger car market. It had sales of 2,721,014 units.
How significant that is can be discerned by the fact that were you to add the passenger car sales of #2 Toyota and #3 Hyundai, you'd end up with 2,157,838 vehicles (that's 1,086,014 for Toyota and 1,071,824 for Hyundai), or 563,176 fewer cars that Volkswagen sold.
The total number for Volkswagen doesn't include the numbers for Audi. In 2015 Audi sold 574,976 vehicles. That puts Audi in 13th place.
BMW had sales of 451,347, which is good for 18th place. Mercedes doesn't make the top 20.
VW Sales in China vs U.S.
Another way of looking at how dominant Volkswagen is there is to compare the 2015 China sales numbers with the 2015 U.S. sales numbers.
In the U.S., Volkswagen delivered 349,440 vehicles. That was down a mere 4.8% from 2014 numbers, so one can't ascribe the diesel problem to a huge knock on company sales. Audi delivered—for it—a record 202,202 units, up 11.1% compared to 2014.
So Audi's U.S. numbers area less than half of its China numbers.
And as for Volkswagen U.S. vs. China—well, there really is no reasonable comparison.
RELATED CONTENT
The common wisdom seems to be that midsize cars have pretty much had it in the U.S. new car market.

Often when there are vehicles that have ceased production and are in the process of being completely moved out of the system there are sales numbers that look like this: Honda Insight: June 2016, 9; June 2015, 126; % change: 93.1% Sometimes there is a vehicle that has just gone into production and it catches the sales at just the right time so that there are numbers that look like this: Honda Ridgeline: June 2016, 2,472; June 2015, 7; % change: 33,856% OK.

It's the fifth generation of a vehicle that has been increasing in sales year after year since its introduction in 1997.